Home

>

ADELINA Tarhana Kisela 350g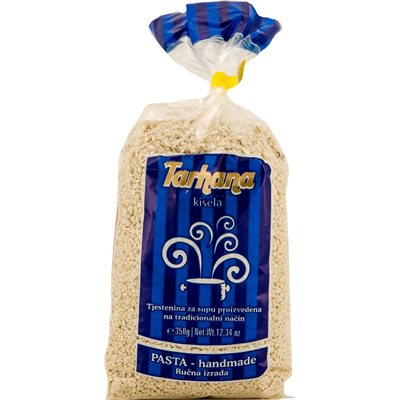 ADELINA Tarhana Kisela
350g bag
Item #:80930
Tarhana, also known as "Trahana," is very small dry pasta with a coarse and uneven pellet-like texture. It is traditionally used in soups of the same name and in breakfast porridges, stews and savory pies. This fortifying comfort food is said to have first roots in ancient Greece, Rome and Persia. Today, tarhana is a popular culinary ingredient in classic Southeastern European, Mediterranean and Middle Eastern cooking. At Adelina, our Tarhana Kisela (Sour) is handmade, using the same lengthy traditional methods that countless generations of mothers and grandmothers have employed for millennia. Tarhana Kisela is a delicious and nutritious fermented dough pasta, perfect for all manner of soups and any recipes calling for sour tarhana. Because we use T-500 flour (from the endosperm of wheat grains) in our dough, Adelina Sour Tarhana is rich in protein, vitamins and minerals. For a classic preparation, cook the tarhana as you would other pasta: in boiling water or in the cooking liquid of your choice. Add butter, milk, tangy Feta and a squeeze of fresh lemon to the tarhana – or top with Feta or tangy yogurt – for a heartwarming dish on a cold day. Tarhana Kisela is a wonderful ingredient for hearty soups and vegetarian and meat-based stews. It is also an ingredient in a traditional seared and baked chicken dish with fresh tomatoes. You will find this special pasta makes a wonderful binder for meatballs and has just the right consistency for stuffed veggies. Of add sautéed garlic, shallots or onions in olive oil, crushed or diced tomatoes and your favorite spices to Adelina Sour Tarhana, and you will have the start of a delicious meal.
Item
| | |
| --- | --- |
| UPC: | 3871971000552 |
| Item Package: | 350g bag |
| Item dimensions - LxWxH (inches): | 8.5 x 3.75 x 2.25 |
| Item weight (lbs): | 0.8 |
| Country of Origin: | Bosnia |
| Storage: | Store in a cool, dry place. |
Flour T-500, yeast, water.