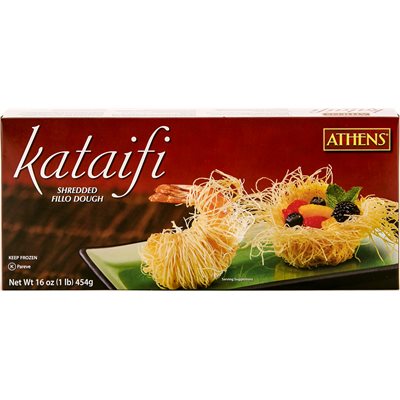 ATHENS Kataifi
1lb box
Item #:A00200
Kataïfi is the Greek name for shredded phyllo dough in the form of long, thin angel hair-like strands. Alternatively known as 'Kataif" or "Kunafeh," Kataïfi, it is also the name of the finished traditional sweet confections made with this wonderfully unique dough. Kataïfi has been popular in Greek, Turkish, Arabic and Balkan cuisine since the Ottoman Era. Greek Kataïfi rolls are nests of kataïfi dough filled with chopped nuts, butter and cinnamon, drenched in honey or flavored simple syrup. Athens Kataifi is the perfect choice for this traditional Greek dessert. To use in other preparations: layer or form our Kataïfi into nests or cones and drizzle with melted butter. Mix chopped pistachios, walnuts or almonds with butter, cinnamon or cardamom – and top with a honey, rosewater, orange water or lemon simple syrup. Add cheese if you're making Arab kunafeh. And add dried apricots for kunafa, a staple Ramadan dessert. With Athens Kataïfi, you have the basis for an almost endless array of mouthwatering desserts that will impress your family. For a unique savory preparation, wrap seasoned shrimp or scallops in Athens Kataïfi, pan or deep fry, and serve with sweet and sour Thai, Indian Satay or Chinese Plum dipping sauce.
Item
| | |
| --- | --- |
| Item Package: | 1lb box |
| Item dimensions - LxWxH (inches): | 0 x 0 x 0 |
| Item weight (lbs): | 0 |
| Country of Origin: | United States |
| Storage: | Keep frozen. |


Water, enriched wheat flour (wheat flour, niacin, iron, thiamine mononitrate, riboflavin, folic acid), modified food starch, corn starch, canola oil, soy lecithin, salt, preservatives (calcium and/or sodium propionate, potassium sorbate), vital wheat gluten, dextrose, maltodextrin, citric acid.