Home

>

KRAS Santea Mix Assorted Cookies & Wafers 450g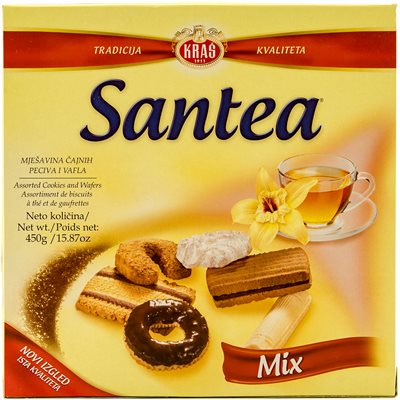 KRAS Santea Mix Assorted Cookies & Wafers
450g box
Item #:71215
At Kraš, our expert bakers have been creating cookies with wholesome, high-quality ingredients and traditional homemade recipes since our founding 1911. Our Santea Mix is a delicious assortment of some of our most classic tea biscuits and wafers - including two that are only available in this mix. Each box includes a generous selection of six different kinds of cookies, neatly stacked on plastic trays:Mira Tea Biscuits – Rectangular shaped toffee-flavored cookies with two parallel lines of decorative icing; Marina Tea Biscuits – Horseshoe-shaped orange flavored cookies; Queen Cocoa Cookies ("Queen Kakao Cookies") – Rectangular-shaped cocoa-flavored cookies, joined together with a silky layer of premium Kraš chocolate; Lilly Vanilla Tea Biscuits ("Lilly Vanilin Tea Biscuits") – Decoratively shaped vanilla-flavored cookies coated with a generous dusting of confectioner's sugar; Tea Rings with Cocoa Coating – Donut-shaped tea biscuits half-dipped in rich, premium Kraš milk chocolate; Frondi – Mini cylindrical-shaped hollow wafer cookies, with a sweet vanilla-flavored milky cream filling. Kraš Santea Mix features an assortment of cookies with a variety of flavors, shapes and textures that will delight the most discerning palates. Ready-made for a tea time, dessert platters or entertaining, this delectable cookie assortment is also a lovely gift for friends, classmates and co-workers. Store in a cool, dry place.
Item
| | |
| --- | --- |
| UPC: | 92214501 |
| Item Package: | 450g box |
| Item dimensions - LxWxH (inches): | 8.9 x 8.8 x 1.8 |
| Item weight (lbs): | 1.2 |
| Country of Origin: | Croatia |
| Storage: | Store in a cool, dry place. |

Wheat flour, sugar, vegetable fat (shea oil, palm oil), cocoa coating [sugar, vegetable fat  (palm oil, shea oil), fat-reduced cocoa powder, emulsifiers: sorbitan tristearate, soya lecithin; artificial vanilla flavor), margarine [vegetable fat and vegetable oil (palm oil, coconut oil, soybean oil), emulsifier soya lecithin], dextrose, fat- reduced cocoa powder, whole milk powder, skimmed milk powder, lactose (milk), leavening agents: ammonium bicarbonate, sodium bicarbonate; salt, natural flavors (orange, lemon), artificial flavors (vanilla, toffee), acidity regulator citric acid, vanilla extract, emulsifier soya lecithin. Cocoa solids min. 18% in cocoa coating.