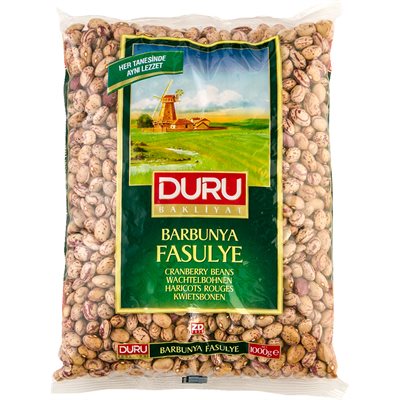 DURU Red Kidney Beans (Barbunya Fasulye)
1kg bag
Item #:40511A
Cranberry Beans are plump, medium-sized beige colored beans with beautiful red streaks that disappear once the beans are cooked. A sister to Borlotti Beans, and often used interchangeably in recipes, Cranberry Beans are softer and creamier in texture than pinto and kidney beans. Duru Cranberry Beans (Barbunya Fasülye)have a delicately sweet and nutty flavor. To bring out the subtle earthy goodness of these special beans, you will want to soak them overnight before cooking them. Cranberry Beans are a wonderful ingredient for soups, stews, side dishes – and even pasta! If you're making Pasta e Fagioli or Minestrone Soup, these are the beans for you! Duru Cranberry Beans also make a wonderful side dish, with olive oil, garlic, tomatoes, salt and pepper. Add spinach or kale, and veggie or meat sausage, for a heartwarming stew on a cold night. Once you start experimenting with Duru Cranberry beans, your culinary imagination will be inspired! Use Duru Barbunya Fasülye used to make a cranberry bean hummus or a lighter version of Mexican refried beans. Cranberry beans are rich in protein and fiber, an excellent source of potassium, copper and iron and a good source of folate. These delicious beans help with satiety, digestion and building muscle. Because they are low on the glycemic index, Duru Cranberry Beans are a wonderful source of protein for diabetics. Duru was founded in Turkey in 1935 by brothers Ziya and Ihsan Duru as a bulgur business. Today, Duru is still a family-owned enterprise: offering our customers nutritious, high-quality natural grains, rice and beans using sustainable agriculture and environmental practices.
Item
| | |
| --- | --- |
| Item Package: | 1kg bag |
| Item dimensions - LxWxH (inches): | 8.3 x 6.1 x 1.6 |
| Item weight (lbs): | 2.25 |
| Country of Origin: | Turkey |
| Storage: | Store in a cool, dry place. |

Cranberry beans.