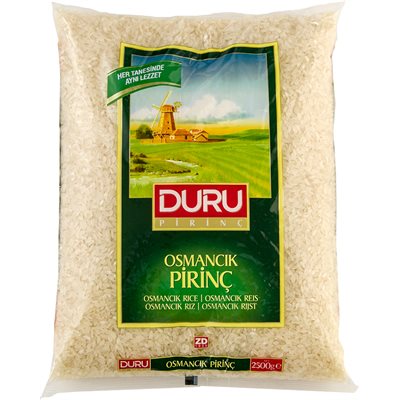 DURU Osmancik Pilavlik Pirinc
2.5kg bag
Item #:40520
More than any domesticated crop, rice has been a staple food for more than half of the world's population – and for the longest period of time. With first recorded origins in 2,500 B.C. China, rice cultivation soon spread to Sri Lanka, India, Greece, Turkey and other countries bordering the Mediterranean. Osmancik Rice is a much newer variety of rice, developed by the Agricultural Research Institute of Edirne in 1997 and grown exclusively in Turkey. At Duru, our Osmancik Rice (Osmancik Pilavlik Pirinç) hails from Trakya, Bafra and Samsun. This popular white long grain rice is ideal for making pilafs, a staple of Turkish and other Middle Eastern and Mediterranean cuisines. Duru Osmancik Rice is a great rice for Firin Sütlaç, a Turkish baked rice pudding, and equally delicious in a stovetop rice pudding. A natural for stuffed peppers and eggplant, our special rice makes a hearty base for rice and beans and soups. To impart more flavor to our rice, boil with vegetable stock or chicken broth instead of water. To increase the nuttiness of Duru Osmancik Rice, heat up some olive or butter (in the pan you're going to boil the rice in, then sauté the raw rice until it is gently toasted. Next, add the aromatics of your choice and once combined, add your boiling liquid. For a delightful Mediterranean-inspired side dis, add dried raisins, currants or diced dried apricots to the cooked rice, sprinkle with toasted almonds or cashews and finish with a touch of lemon zest! Once you start working with our Osmancik Rice, you will find it is a blank culinary canvas that will absorb the saucy goodness of whatever you are creating! Duru was founded in Turkey in 1935 by brothers Ziya and Ihsan Duru as a bulgur business. Today, Duru is still a family-owned enterprise: offering our customers nutritious, high-quality natural rice, grains and beans using sustainable agriculture and environmental practices.
Item
| | |
| --- | --- |
| UPC: | 8691440776376 |
| Item Package: | 2.5kg bag |
| Item dimensions - LxWxH (inches): | 11 x 8.3 x 2 |
| Item weight (lbs): | 5.55 |
| Country of Origin: | Turkey |
| Storage: | Store in a cool, dry place. |
Osmancik rice.