Home

>

DURU

>

DURU Baldo Rice (Baldo Pirinc) 1kg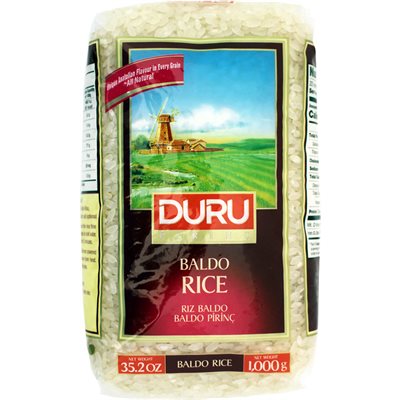 DURU Baldo Rice (Baldo Pirinc)
1kg bag
Item #:40508
If you love making risotto and don't have the patience for its labor-intensive preparation, Turkish Baldo Rice may become a new pantry favorite! Baldo Rice is considered to be the finest quality rice grown in Turkey. A relatively new rice, cultivated exclusively in Turkey and Italy, this short grain white rice was created by cross-breeding Arborio Rice with Stirpe 136 Rice. A bit smaller than Arborio Rice, Duru Baldo Rice (Baldo Pirinç) has a wonderfully compact structure, making it the perfect chewy grain to absorb the saucy deliciousness of your culinary creations. For a wonderfully flavorful vegetarian Baldo Rice risotto, sauté olive oil, garlic, shallots, shitake mushrooms and asparagus, peas and grated parmesan cheese. You will find our Baldo Rice requires frequent vs. constant stirring for risotto preparations. (Chef's tip: Avoid rinsing the rice before cooking or its starchy goodness will diminish.) Duru Baldo Rice is also delicious in pilafs, in stuffed peppers and eggplants and more! Once you start working with Baldo Rice, you will find it to be a wonderful vehicle for your culinary masterpieces! Duru was founded in Turkey in 1935 by brothers Ziya and Ihsan Duru as a bulgur business. Today, Duru is still a family-owned enterprise: offering our customers nutritious, high-quality natural rice, grains and beans using sustainable agriculture and environmental practices.
Item
| | |
| --- | --- |
| UPC: | 8691440710301 |
| Item Package: | 1kg bag |
| Item dimensions - LxWxH (inches): | 6.9 x 4.2 x 2.6 |
| Item weight (lbs): | 2.2 |
| Country of Origin: | Turkey |
| Storage: | Store in a cool, dry place. |
Rice.