Home

>

DURU

>

DURU Esmer Pilavlik (Dark Coarse) Bulgur 1kg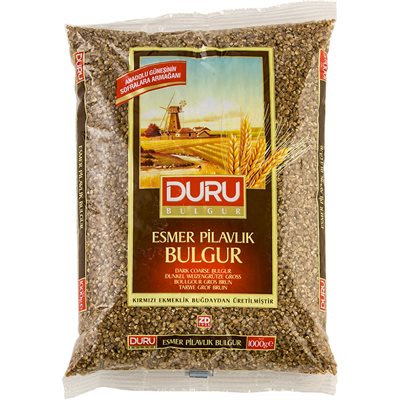 DURU Esmer Pilavlik (Dark Coarse) Bulgur
1kg bag
Item #:40530
Bulgur has been a staple of the Mediterranean and Middle Eastern diets for thousands of years – and for good reason! This ancient grain is not only a wonderfully versatile culinary ingredient, but one of the healthiest foods one can consume. Bulgur is made from wheat that is parboiled in water, sun-dried and milled into distinct grain sizes. Yellow bulgur is made from Durum Wheat. Dark bulgur is made from soft red wheat. At Duru, we have been making bulgur in Turkey since our founding in 1935 by brothers Ziya and Ihsan Duru. Today, Duru is still a family-owned enterprise: offering our customers the finest natural bulgur using traditional production methods and sustainable agriculture and environmental practices. Duru Dark Coarse Bulgur (Esmer Pilavlik) has a more pronounced flavor and softer texture than yellow bulgur. The easiest way to prepare this bulgur is boiled in your favorite cooking stock. To amplify the inherent nuttiness of Esmer Pilavlik, for a delicious hot side dish or one-pot meal, pan sauté the bulgur in olive oil or butter for 3 to 5 minutes and then introduce your cooking stock and aromatics. Add pan sautéed garlic, yellow onions, mushrooms and spinach or kale to the mixture for a wonderful vegetarian side dish. Add cooked chickepeas or lentils for a delicious vegetarian main course. Duru Coarse Dark Bulgur is a perfect ingredient for pilafs, salads, soups, stuffing and stuffed veggies. Because bulgur has a significantly lower glycemic index than pasta or rice, it is a great grain for diabetics. Rich in fiber, antioxidants and protein, bulgur also helps with satiety, heart health and anemia. This light and nutty grain also helps to balance the body's pH and is a good source of manganese, b vitamins, folic acid, iron and magnesium. A wonderful grain for vegans, vegetarians and meat eaters, bulgur is not recommended for anyone with Celiac Disease or with a gluten intolerance.
Item
| | |
| --- | --- |
| UPC: | 8691440501008 |
| Item Package: | 1kg bag |
| Item dimensions - LxWxH (inches): | 8.6 x 5.6 x 1.8 |
| Item weight (lbs): | 2.2 |
| Country of Origin: | Turkey |
| Storage: | Store in a cool, dry place. |
Dark coarse bulgur.