Home

>

DURU

>

DURU Raw Chick Peas (Nohut) 1kg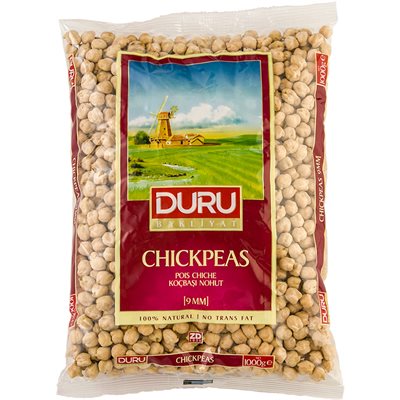 DURU Raw Chick Peas (Nohut)
1kg bag
Item #:40504
Chickpeas, or garbanzo beans, are the one of the world's healthiest and oldest cultivated foods, with first roots dating back more than 7,500 years ago to Jericho, Turkey, Greece, Rome and Southern France. Ancient Greeks used chickpeas in desserts and enjoyed them raw. Ancient Romans used garbanzo beans in soups and stews. Chickpeas have been a staple of Middle Eastern, Mediterranean and Indian diets for many millennia: most commonly used in hummus, falafel, soups, stews and Indian dishes like chana masala and dahl. At Duru, we have been offering our customers nutritious, high-quality natural beans and grains since our founding in 1935 by brothers Ziya and Ihsan Duru. Today, Duru is still a family-run enterprise: committed to sustainable farming and environmental practices. Whitish-beige in color, Duru Raw Chickpeas (Nohut) are a delicious and versatile culinary ingredient. Perfect for vegans, vegetarians, gluten-free and health-conscious eaters, chickpeas are a rich source of protein, fiber, B vitamins, iron, magnesium and phosphorus. If you soak Duru Raw Chickpeas for 12 to 24 hours, the cooking time will shorten from 2 hours to 30 minutes. Chickpeas are a "natural" for spreads, salads, veggie and meat-based chilis and curries. When cooked, chickpeas have a delicate slightly nutty flavor; when roasted, their nuttiness achieves new heights of goodness! Roasted chickpeas are a wonderful snack and party offering – and can be used to add textural variety to salads. Simply toss cooked Duru Raw Chickpeas in olive oil and season with salt. Spread on a lightly oiled baking pan and roast in a 450-degree pre-heated oven. Then toss the savory or sweet spices of your choosing to the cooked chickpeas the moment they are out of the oven. Modern chefs are grinding dried chickpeas to make delicious gluten-free pizza crusts and using chickpea flour to create gluten-free sweet and savory confections. While canned chickpeas are very easy to toss into salads, is there no is substitution for cooking with chickpeas nurtured from scratch!
Item
| | |
| --- | --- |
| UPC: | 8691440710431 |
| Item Package: | 1kg bag |
| Item dimensions - LxWxH (inches): | 8.3 x 5.6 x 1.8 |
| Item weight (lbs): | 2.25 |
| Country of Origin: | Turkey |
| Storage: | Store in a cool, dry place. |
Chick peas.