Home

>

DURU

>

DURU White Kidney Beans (Dermason Fasulye) 1kg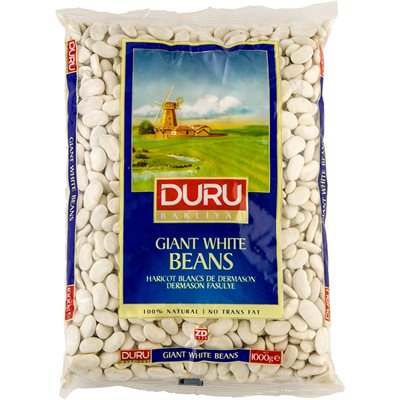 DURU Dry White Beans (Dermason Fasulye)
1kg bag
Item #:40502
White Kidney Beans, also known as White Navy Beans, Haricot Beans and White Beans, are a wonderfully versatile culinary ingredient and a rich source of protein, fiber, vitamins B1 (thiamine) and B9 (folate), manganese, magnesium and iron. Duru White Kidney Beans (Dermason Fasulye) hail from the Karaman and Konya regions of Turkey. Dermason Fasulye are the most popular and widely used bean in Turkish cuisine and a core ingredient in the traditional white bean stew, "Kuru Fasulye." Often called the "national" stew of Turkey, Kuru Fasulye is made with white kidney beans, olive oil, onions, tomatoes, tomato paste, peppers – and sometimes ground meat. These delicious white beans are also a component of "Senate Soup," a hearty dish made with white navy beans, ham hocks and onions – served daily in the U.S. Senate's dining room since the early 20th century. With a delicate flavor and soft, creamy texture akin to Cannellini Beans, Duru White Kidney Beans are a marvelous ingredient for soups, like classic Italian White Bean Escarole Soup, and stews. They also make a delicious white bean dip or white bean hummus. White Kidney Beans are also a great addition to salads. Add them to a chopped salad with arugula, white onion, tomatoes, cucumber, carrots, fingerling potatoes, tuna, oregano, olive oil, lemon and sherry vinegar for a healthy and delicious lunch offering. Before cooking Duru White Kidney Beans, you will want to soak them overnight for 12 hours.
Item
| | |
| --- | --- |
| Item Package: | 1kg bag |
| Item dimensions - LxWxH (inches): | 7.4 x 4.1 x 2.7 |
| Item weight (lbs): | 2.25 |
| Country of Origin: | Turkey |
| Storage: | Store in a cool, dry place. |
White kidney beans.