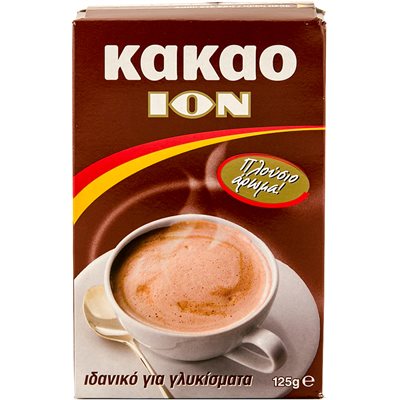 ION Cocoa Mix
125g box
Item #:I5703
With first roots in the ancient Olmec, Mayan and Aztec civilizations, chocolate was originally consumed as a bitter drink, prized for its nutritive and (by some) aphrodisiac powers. In 1828, a Dutch chemist named Coenraad Johannes van Houten invented cocoa powder, which expanded the use of chocolate beyond beverages. Derived from what remains once cocoa butter is extracted from cocoa beans, cocoa powder is rich in minerals not found in chocolate, including calcium, copper, magnesium, phosphorus, potassium, sodium and zinc. ION Cocoa Powder is made with 100% pure "Dutch Process" cocoa powder. The secret to the exceptional quality of our cocoa powder starts with the cultivation and selection of the finest cocoa beans in Western Africa and the Caribbean. Less acidic than regular cocoa powder, our Dutch-Processed Cocoa Powder has a bold, rich chocolate flavor and aroma. Perfect for making homemade chocolate, ION Cocoa Powder will add extra chocolatey goodness to cakes, cookies and brownies. Delicious dusted on classic desserts like tiramisu and truffles, our cocoa powder also makes a fantastic rub for roasted meats. Of course, there is nothing more soothing that hot chocolate, and for this ION Cocoa Powder is a natural. Mix with hot milk and with cinnamon, vanilla or nutmeg, and sugar to taste, and you will be in chocolate heaven! If your recipe calls for baking powder, ION Cocoa Powder is the product for you! Founded in 1930, ION is the original and largest producer of Greek chocolate.
Item
| | |
| --- | --- |
| Item Package: | 125g box |
| Item dimensions - LxWxH (inches): | 3.75 x 1.73 x 5.6 |
| Item weight (lbs): | 0.31 |
| Country of Origin: | Greece |
| Storage: | Store in a cool, dry place. |

100% cocoa powder.