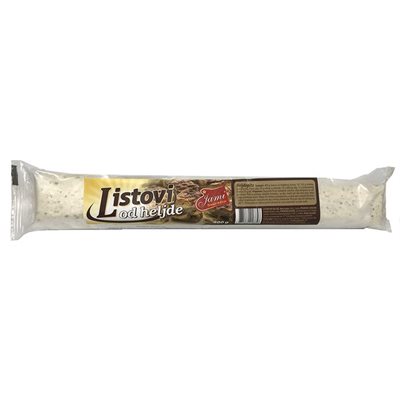 JAMI Buckwheat Jufka
400g pack
Item #:82116
Jufka (also known as yufka, fillo and phyllo), are paper-thin sheets of unleavened dough that have been a mainstay of Balkan, Mediterranean and Middle Eastern cuisine since the Ottoman Era. While Jufka dough is classically used to make sweet or savory pastries and pies, the modern uses for this light and flaky dough are almost endless. By definition, jufka is low in fat and cholesterol and a healthier alternative to regular and puff pastry dough. If you're looking to work with an even healthier phyllo, look no further! Jami Buckwheat Jufka is made with wheat – and buckwheat flour, which is rich in amino acids and anti-oxidants. The buckwheat in our recipe has a unique slightly nutty flavor that will make your phyllo-based creations shine! If you grew up in the Balkans, Jami Buckwheat Jufka is a perfect ingredient for Burek (phyllo-wrapped pies filled with cheese, spinach, potato and/or ground meat, or fruit like apples or cherries), Pita Zeljanica (family-sized pies enrobed in golden layers of phyllo, filled with spinach and feta, beyaz peynir or Travnicki Sir), Gibanica (large pies with a cheese, egg and herb mixture nestled between alternating layers of crispy phyllo), Prekmurska Gibanica (with separate layers of poppy seeds, walnuts, apples and quark) and Bundevara (a rolled dessert like a strudel, filled with grated pumpkin). Jami Buckwheat Jufka is a wonderful dough for syrup-drenched desserts like baklava and will produce a perfect flaky crust for sumptuous fruit, or fruit and custard tartes. For a delicious vegetarian tarte, layer the baked jufka with roasted butternut squash, sautéed onions, apples and kale and top with creamy goat cheese. Or wrap a mixture of salmon, spinach, onions and baked potato in the flaky dough, and bake until golden brown, for an elegant main course offering. Our Jufka can be folded, layered, ruffled and rolled with the ingredients of your choosing. Once you start working with Jami Buckwheat Jufka, you will be inspired!
Item
| | |
| --- | --- |
| UPC: | 3871832018856 |
| Item Package: | 400g pack |
| Item dimensions - LxWxH (inches): | 14.1 x 1.8 x 1.5 |
| Item weight (lbs): | 1 |
| Country of Origin: | Bosnia |
| Storage: | Keep frozen. |
Wheat flour, water, buckwheat flour, sunflower oil, corn starch, salt, wheat gluten, potassium sorbate (a preservative), citric acid, soy lecithin (an emulsifier), dough conditioner.