Home

>

MARCO POLO Hulled Millet 16oz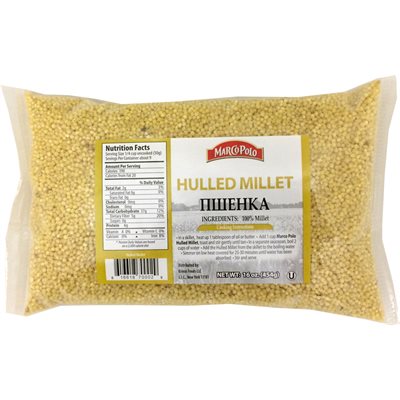 MARCO POLO Hulled Millet
16oz bag
Item #:70204
First discovered 10,000 years ago in Asia and Africa, millet is one of the original cultivated grains. In the Torah, or Old Testament, millet is mentioned as a component of Ezekiel Bread. In ancient China, millet was revered as one of five sacred crops. Today, millet is the world's sixth most consumed grain. Millet is gluten free and rich in protein, dietary fiber, essential amino acids, manganese and magnesium and phosphorous. Yellow in color, with a slightly sweet nutty corn flavor, Marco Polo Hulled Millet is sourced from select crops. Use our Hulled Millet as you would rice or quinoa. Boil it in water, veggie or chicken stock or pan toast it in olive oil or butter to amplify the inherent nuttiness of the grains. For a delicious side dish or foundation to a main dish, sauté garlic and dice onions in olive oil, add hulled millet to the mixture and toast a few minutes before adding your cooking liquid. Boil until al dente, and combine with butter and grated cheese. Use Marco Polo Hulled Millet to make a delicious breakfast porridge topped with sliced bananas, or diced apples, walnuts and cinnamon – and sweeten with maple syrup or brown sugar. Once you start experimenting with Hulled Millet, you will find it a lovely alternative to rice.
Item
| | |
| --- | --- |
| Item Package: | 16oz bag |
| Item dimensions - LxWxH (inches): | 5.9 x 4.1 x 1.5 |
| Item weight (lbs): | 1 |
| Country of Origin: | Russia |
| Storage: | Store in a cool, dry place. |


100% hulled millet.