Home

>

MARCO POLO Oatmeal 16oz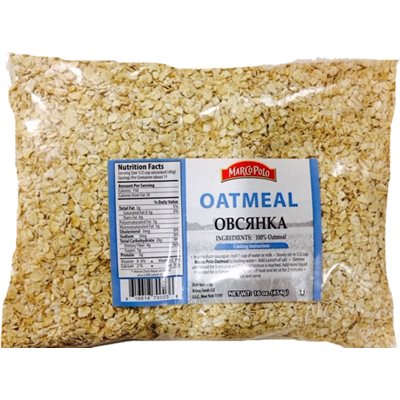 MARCO POLO Oatmeal
16oz bag
Item #:70203
One of the most popular uses for rolled oats is in morning oatmeal – and for good reason! Rolled oats are gluten free and a rich source of antioxidants, vitamins and minerals. Eating rolled oats on a regular basis can aid in weight loss and lowering blood sugar and LDL cholesterol levels. Importantly, oats contain a unique group of antioxidants called "avenanthramides," which help guard against arteriosclerosis. Marco Polo Rolled Oats are made with 100% rolled oats from select crops. Enjoy our rolled oats cooked in warm milk, topped with sliced bananas, diced apples or fresh berries. Add nuts and/or dried fruit and sweeten with honey, maple syrup, agave syrup or brown sugar. Marco Polo Rolled Oats are just the ingredient you'll need for traditional Oatmeal Cookies. Add walnuts and raisins, or white chocolate morsels and dried cherries - even coconut and dried apricots to the batter – for new takes on this all-time classic. Marco Polo Rolled Oats are a perfect ingredient for homemade muesli, granola and granola bars and make a delicious streusel topping for pies, cobblers and crisps. Simply combine the rolled oats with melted butter, brown sugar, flour, cinnamon, salt and chopped walnuts. To make a creamy, lactose free oat milk, combine rolled oats, water and a pinch of salt in a high speed blender for about a minute. Strain with a fine-mesh sieve or cheesecloth and enjoy "as is", in your coffee or with cereal. Grind Marco Polo Rolled Oats in a coffee blender and its uses grow exponentially! Oat flour is perfect for making gluten free oatmeal muffins and breads.
Item
| | |
| --- | --- |
| Item Package: | 16oz bag |
| Item dimensions - LxWxH (inches): | 7.9 x 5.1 x 1.5 |
| Item weight (lbs): | 1 |
| Country of Origin: | Russia |
| Storage: | Store in a cool, dry place. |


100% rolled oats.