Home

>

MARCO POLO Barley 16oz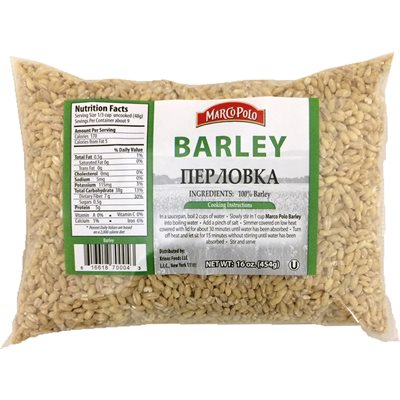 MARCO POLO Barley
16oz bag
Item #:70202
Barley is one of the world's original ancient grains, first cultivated in Eurasia 10,000 years ago. Barley has been a staple grain in the Middle East, Europe and Africa for many millennia. Pearled Barley, the most common form of barley, is made by removing the bran and outer husk of the whole grain. Rich in fiber, pearled barley is known to aid in lowering blood sugar, blood pressure and cholesterol levels. Marco Polo Pearled Barley is made from select crops and is a wonderful ingredient for breakfast porridges, soups, stews, stuffed veggies, side dishes and one-pot meals. With a slightly earthy, nutty flavor and a pleasingly chewy texture, this delicious and versatile grain can be used in any recipe calling for rice, faro, quinoa or Israeli couscous. To enhance the inherent nuttiness of the grains, toast them for 5 minutes in olive oil before adding your cooking liquid. Or simply boil, as you would rice. For a delicious one-pot meal, sauté garlic and diced onions in olive oil and add Marco Polo Pearled Barley. Add diced shitake mushrooms and bok choy to the mixture until cooked. Cook spring peas separately until al dente and prepare the barley as you would rice, boiled in veggie or chicken stock. Once all of the ingredients are ready, combine them in the sauté pan – and enjoy! For an Asian-inspired version of this dish, add beaten eggs to the mixture while still hot, until the eggs are fully cooked and add soy sauce to taste. Serve with pickled ginger – and top with seared shrimp. In the U.S., Mushroom Barley Soup and Beef Barley Soup are classic diner fare. Use Marco Polo Pearled Barley in these or other soups for a heartwarming meal on a cold night. Once you start working your culinary magic with Marco Polo Pearled Barley, you will find it complements almost every dish.
Item
| | |
| --- | --- |
| Item Package: | 16oz bag |
| Item dimensions - LxWxH (inches): | 7.9 x 5.1 x 1.5 |
| Item weight (lbs): | 1 |
| Country of Origin: | Russia |
| Storage: | Store in a cool, dry place. |


100% pearled barley.