Home

>

MARCO POLO Buckwheat 16oz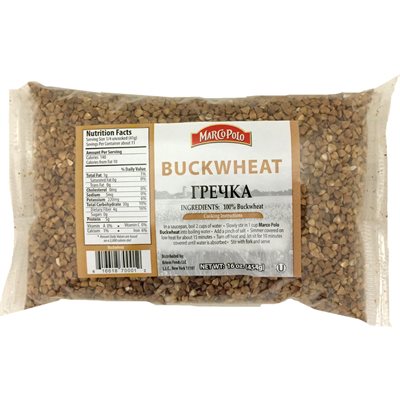 MARCO POLO Buckwheat
16oz bag
Item #:70201
Contrary to its name, buckwheat is not wheat, but a relative of rhubarb and sorrel. As such, Buckwheat groats, the hulled seeds of the Buckwheat plant, are gluten free! Buckwheat groats have been a mainstay of traditional Central and Eastern European cuisine for many centuries, popularly used in sweet and savory porridges – and always cooked with butter! Buckwheat Groats are indispensable for Kasha Varnishkes: a classic Ashkenazi Jewish comfort food of buckwheat groats sautéed with diced onions in shmaltz (rendered chicken fat) – or butter or oil – mixed with farfalle (bow tie) noodles. Buckwheat Groats are a pure protein with a high concentration of all essential amino acids – along with iron, zinc and selenium. Marco Polo Buckwheat Groats are made with 100% pure buckwheat groats. You will find them a wonderfully versatile ingredient. Steam or boil our buckwheat groats until they are tender and soft and add them to your morning oatmeal, salads and chicken or vegetable soups. Use our Buckwheat Groats in your meatballs, veggie burger or stuffed veggie recipes, instead of rice or quinoa. Grind Marco Polo Buckwheat Groats to a fine consistency and can make delicious, gluten free buckwheat pancakes, waffles, cakes, cookies, cakes and scones – solo, or with another gluten free flour. For a delicious and nutritious homemade granola recipe, combine Marco Polo Buckwheat Groats with rolled oats, nuts, dried fruit and coconut flakes, mix with olive oil, maple syrup, honey or sugar – and bake.
Item
| | |
| --- | --- |
| Item Package: | 16oz bag |
| Item dimensions - LxWxH (inches): | 7.9 x 5.1 x 1.5 |
| Item weight (lbs): | 1 |
| Country of Origin: | Russia |
| Storage: | Store in a cool, dry place. |


100% buckwheat groats.