Home

>

MARCO POLO Grande Fidelini Fine Egg Nest Noodles 1lb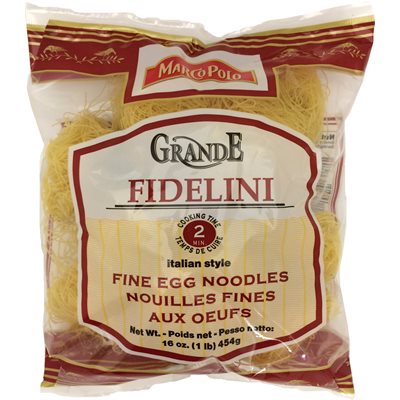 MARCO POLO Grande Fidelini Fine Egg Nest Noodles
1lb bag
Item #:70602
Fidelini are long strands of thin angel hair pasta formed into the shape of beautiful nests. At Marco Polo, our Grande Fidelini Fine Egg Nest Noodles are made with high quality Durum wheat semolina and farm fresh eggs. The most classic way to serve fidelini is al dente, as a nest in the center of a bowl – with the soup poured around it. While Fidelini Nests are traditionally served in broth-based vegetable and chicken soups, any soup calling for capellini egg noodles will shine with this delicate pasta! Add Marco Polo Fidelini Fine Egg Nest Noodles to a fish or beef soup like Pho - as you would Asian noodles. For an elegant first course, serve our pasta nests with fresh tomato or pesto sauce, topped with grated cheese. Or, break the fidelini into small pieces and use the vermicelli to make delicious rice and bulgur pilafs. Requiring only 2 minutes of cooking time, Marco Polo Fidelini Fine Egg Nest Noodles will make a wonderful addition to your pasta pantry.
Item
| | |
| --- | --- |
| Item Package: | 1lb bag |
| Item dimensions - LxWxH (inches): | 13 x 8.5 x 3 |
| Item weight (lbs): | 0.9 |
| Country of Origin: | Slovenia |
| Storage: | Store in a cool, dry place. |
Durum wheat semolina, dried whole eggs.