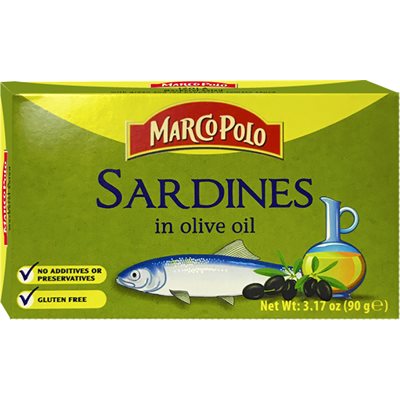 MARCO POLO Sardines in Olive Oil
90g (3.17oz) tin
Item #:70431
If you appreciate the distinctive flavor of canned sardines and haven't tried them in a while, now could be the time to rethink that decision! The American Heart Association recommends at least two servings a week of fatty, oily fish like sardines, mackerel, tuna or salmon – and for good reason! Sardines are not only delicious but one of the most nutrient-dense fish one can consume. Rich in inflammation fighting omega-3 fatty acids, vitamin B12 and selenium, sardines also provide a rare natural source of vitamin D. Because sardines are low lying fish that eat plankton, they are sustainable and don't carry the toxins and heavy metals that many other fish do. At Marco Polo, our Sardines in Olive Oil feature high-quality boneless fish filets bathed in heart-healthy olive oil, and seasoned with edible sea salt. Ready-to-eat right out of the tin, they are great afternoon snack on crackers, with butter or mayo and a bright squeeze of lemon. Marco Polo Sardines in Sunflower Oil are a perfect offering for smoked fish platters, with capers, diced red onions and lemon wedges. For a new variation on a brunch classic, enjoy our sardines on a toasted bagel with cream cheese. For a mouthwatering sardine dip to delight your family and friends, mash Marco Polo Sardines in Olive Oil with light cream cheese or sour cream. Add capers, chopped shallots and pepper – and serve with salty tortilla chips, crusty bread or crudité. Our sardines are also wonderful in a room temperature salad, with boiled or pan seared new potatoes, arugula, red onion, parsley, olive oil and lemon juice. Once you start working with our sardines, you will find them a surprisingly versatile culinary ingredient and a great substitution for other canned fish. Whether you're making fish tacos, sardine cakes, or lemony Italian pasta with garlic, shallots, capers, spinach and buttery bread crumbs, your creations will sing with Marco Polo Sardines in Olive Oil. 
Item
| | |
| --- | --- |
| UPC: | 616618-880042 |
| Item Package: | 90g (3.17oz) tin |
| Item dimensions - LxWxH (inches): | 4.2 x 2.5 x 0.8 |
| Item weight (lbs): | 0.25 |
| Country of Origin: | Slovenia |
| Storage: | Refrigerated after opening. |


Sardines (fish). olive oil, edible salt.