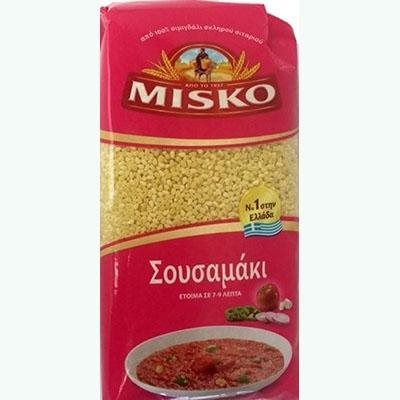 MISKO Peponaki
500g bag
Item #:10108A
Orzo are very small pieces of pasta, resembling flattened grains of rice, which are traditionally used in soups, pilafs, salads and stuffed veggies. Peponaki (the Greek word for "melons") are a sister pasta to orzo - in the shape of tiny melons. At Misko, we have been making traditional pasta in Greece since 1927. While orzo is an Italian invention, each country has its own regional uses for this versatile pasta. In Greece, Peponaki are often used in classic soups like the lemony Chicken Avgolemono Soup – and Tahinosoupa, made with tahini, grated celery and carrots, scallions and lemon juice. Misko Peponaki are a wonderful ingredient for any soup calling for orzo, including classic minestrone, chicken and tomato soup. Work with your magic with Peponaki as you would any tiny pasta, cooked al dente. For a wonderful side dish or stuffed vegetable filling: sauté onions, mushrooms and chopped spinach in olive oil and garlic. Add the cooked pasta along with toasted pine nuts, fresh mint and tangy Feta. Any recipe calling for orzo, rice or bulgur – like pilafs – will work beautifully with these charming, tiny pieces of pasta. And they are the perfect size for kids!
Item
| | |
| --- | --- |
| Item Package: | 500g bag |
| Item dimensions - LxWxH (inches): | 5.6 x 3.1 x 6.8 |
| Item weight (lbs): | 1.1 |
| Country of Origin: | Greece |
| Storage: | Store in a cool, dry place. |
Durum wheat semolina, water.