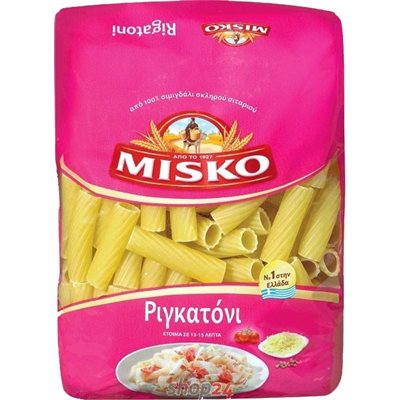 MISKO Rigatoni
500g bag
Item #:10120
Rigatoni are hollow, tubular-shaped pasta with a ridged exterior and straight cuts at each end. At Misko, we have been making traditional Italian-style pasta in Greece since 1927. MIsko Rigatoni lends itself beautifully to both stovetop and baked preparations. Serve our pasta, al dente, with a chunky Bolognese or beef or lamb ragu. For a mouthwatering vegetarian entrée, serve our rigatoni with pesto, spring peas, roasted brussels sprouts and grated lemon zest, topped with grated Parmesan cheese. For a delicious room temperature or cold salad, serve with tomatoes, mozzarella and Kalamata olives and basil with extra virgin olive oil. For a wonderful casserole, serve Misko Rigatoni with sautéed garlic, onions, spinach and mushrooms, mix with creamy ricotta cheese and lots of chopped basil. Then top with grated parmesan cheese and bake. Add seared ground beef or Italian sausage to the mixture for heartier fare. In Greece, Misko Rigatoni is often used (instead of #2 Macaroni) in Pastitso ("Pastitsio" or "Pastichio"), a traditional casserole many call "Greek Lasagna." Each family has its own version of this hearty main dish, which can be adapted for vegetarians. The core components include: a bottom layer of rigatoni mixed with cheese and egg, a middle layer of tomato sauce and ground meat, and a top layer of thick béchamel and grated cheese. Cinnamon, nutmeg and/or allspice make this dish quintessentially Greek. Once you start working with our Rigatoni, your culinary imagination will be inspired.
Item
| | |
| --- | --- |
| Item Package: | 500g bag |
| Item dimensions - LxWxH (inches): | 4.6 x 3.3 x 7.4 |
| Item weight (lbs): | 1.1 |
| Country of Origin: | Greece |
| Storage: | Store in a cool, dry place. |

Durum wheat semolina, water.