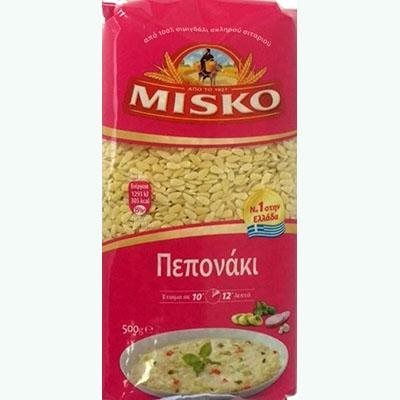 MISKO Sousamaki
500g bag
Item #:10118A
"Pastina" is an Italian classification for tiny pieces of pasta, like orzo. They are traditionally used in soups, pilafs, side dishes and stuffed veggies. "Sousamaki" which translates to "sesame seeds" in Greek, are a sister pasta to orzo. They have a petite teardrop shape reminiscent of sesame seeds. At Misko, we have been making traditional Italian-style pasta in Greece since 1927. Work with MIsko Sousamaki as you would any tiny pasta: sautéed in butter or olive oil before adding your cooking liquid, or cooked al dente in boiling water. Sousamaki are a wonderful ingredient for soups: from chicken or tomato soup to minestrone and Italian Wedding Soup. This delicious pasta will impart flavorful chewy goodness to rice or bulgur pilafs. For a delicious base to a main meal – instead of polenta or rice – serve Misko Sousamaki al dente with butter or olive oil, sautéed mushrooms or truffle oil and grated parmesan cheese. This kid-sized pasta is also delicious with tomato sauce and Feta or parmesan cheese. Once you start working your magic with our Sousamaki, you will find its culinary applications are endess.
Item
| | |
| --- | --- |
| Item Package: | 500g bag |
| Item dimensions - LxWxH (inches): | 3 x 2 x 5.9 |
| Item weight (lbs): | 1.1 |
| Country of Origin: | Greece |
| Storage: | Store in a cool, dry place. |
Durum wheat semolina, water.