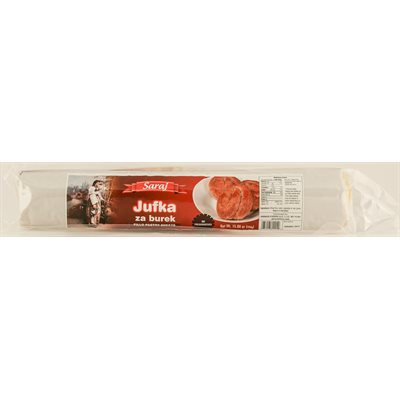 Saraj Jufka for Burek
450g pack
Item #:80904
If you've spent any time in the Mediterranean, the Balkans or in Eastern Europe, you may already be familiar with bureks (böreks or bourekas), sweet or savory pastries wrapped in light flaky dough. Traditionally formed into small triangular and cigar-shaped pastries and as spiral shaped family-sized pies, bureks have been a staple cuisine in these regions since the Ottoman Empire. The dough used for bureks depends on the country of origin, Adelina Saraj Jufka for Burek are made with a classic recipe and the purest of ingredients: wheat flour, water, vegetable oil, salt and gluten. Similar to country-style Greek phyllo, the layers of our Jufka for Burek are bit thicker than the paper-thin phyllo dough, and therefore perfect for burek preparations. While classic savory bureks are filled with spinach and cheese, potato and/or meat, the sky is the limit when it comes to creating a wonderful burek filling! For a delicious sweet preparation, fill the burek with your favorite pie fillings - like apple or cherry and cream cheese. Adelina Saraj Jufka is also a perfect pastry dough for these regional delicacies: Serbian Bundevara, a sweet pie filled with pumpkin; Balkan Zelnik, a spiral pie with savory fillings; and Zeljanica, a Bosnian dish filled with spinach, cheese and eggs. Our Jufka is low in cholesterol and calories. All you need to do is to add butter or olive oil between the thin layers of dough. Contains no preservatives.
Item
| | |
| --- | --- |
| UPC: | 075013809049 |
| Item Package: | 450g pack |
| Item dimensions - LxWxH (inches): | 13 x 2.6 x 0.9 |
| Item weight (lbs): | 1 |
| Country of Origin: | Bosnia |

Wheat flour, water, vegetable oil, salt, gluten.