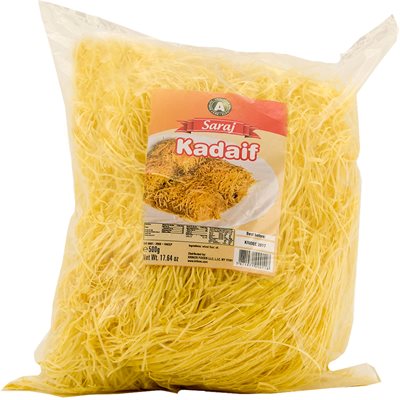 ADELINA Saraj Kadaif
500g bag
Item #:80908
Kataif (also known as kataïfi and kanafeh in Balkan, Greek, Turkish and Arab cuisines) are long, thin strands of shredded phyllo dough that can be rolled and filled, or layered and soaked, to create wonderful sweet and savory confections. Kataif, Kataïfi and Kanafeh are also the names of the delectable finished desserts featuring this wonderful shredded dough. All three traditional desserts feature a combination of honey, chopped almonds, pistachios or walnuts and melted butter. Some, like Kanafeh, also include cheese and are flavored with lemon, rose water or orange water simple syrup. Kunafa, the delicious Ramadan staple, is made with the addition of dried apricots. Adelina Saraj Kataif is made with only two pure ingredients: wheat flour and oil! Our shredded dough is not only fun to work with, it is low in calories and cholesterol and trans fat free. Once you start working magic with our Kataif, you may be inspired to substitute it for other doughs in your favorite recipes. Wrap shrimp or chicken fingers in our shredded phyllo and serve with a dipping sauce, or use to add textural contrast to casseroles and even ice cream sundaes!
Item
| | |
| --- | --- |
| UPC: | 3871971000118 |
| Item Package: | 500g bag |
| Item dimensions - LxWxH (inches): | 12 x 10 x 5 |
| Item weight (lbs): | 1.25 |
| Country of Origin: | Bosnia |
| Storage: | Store in a cool, dry place. |
Wheat flour, oil.