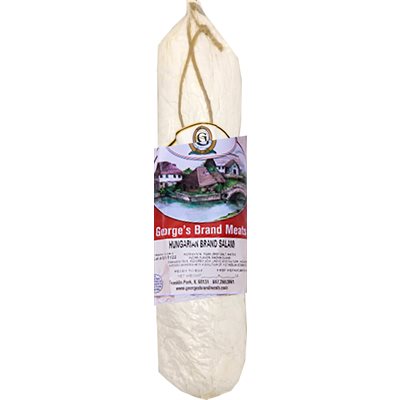 GEORGE'S Hungarian Salami
Approx. 20lb case
Item #:26361
George's Brand Meats has been creating traditional European-style cured meats in Chicago since 1971. Made with premium-grade minced pork and beef, our Hungarian Salami is seasoned with spices including Hungarian paprika then gently hickory smoked and air cured to perfection. Our Hungarian Salami has a characteristic white "noble mold" casing surface - the result of the lengthy air-curing process required for this traditional "winter salami." With a beautiful wine-red color and delicate marbling, George's Hungarian salami (téliszalámi) is a wonderful snack and a great addition to any charcuterie or hors d'oeuvres platter. Considered gourmet deli meat in Hungary, this flavorful salami is traditionally enjoyed with cheeses and in open faced sandwiches with butter. It is also classically eaten with a combination of green onions, sweet green bell peppers, tomatoes, cucumber and/or radishes. Use George's Hungarian Salami as a homemade pizza topping instead of pepperoni for an old-world twist on a classic.
Item
| | |
| --- | --- |
| Item Package: | Approx. 20lb case |
| Item dimensions - LxWxH (inches): | 0 x 0 x 0 |
| Item weight (lbs): | 0 |
| Country of Origin: | United States |
| Storage: | Keep refrigerated. |
Pork, beef, wheat flour, yellow corn flour, rye flour, salt, sugar, flavor, brown sugar, sodium nitrite, ascorbic acid, lactic acid culture, stuffed in pork and or collagen casing, hickory smoked, sprayed with a solution of potassium sorbate.