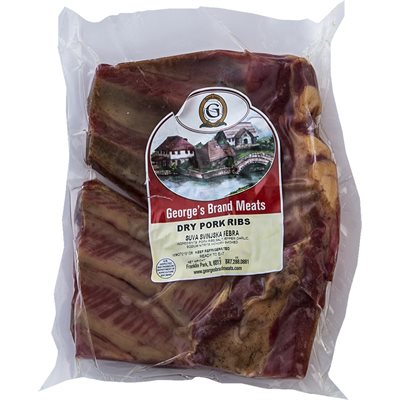 GEORGE'S Smoked Dry Pork Ribs (Suva Svinjska Rebra)
Approx. 20lb case
Item #:26323
At George's Brand Meats, we are dedicated to creating cured meats like you would find in Europe and the Balkans using traditional family recipes and smoking techniques! Our Smoked Dry Pork Ribs are made with top-grade pork, seasoned with salt, pepper and garlic – and smoked to perfection over smoldering hickory wood. Because our Smoked Dry Pork Ribs (Suva Svinjska Rebra) also include the chest bones and muscles, the resulting meat is very fleshy. Cut chunks of the meat off of the bone to create mouthwatering stews, casseroles and bean soups. Reheat our dry pork ribs and serve with mashed or roasted potatoes and your favorite veggies for a main dish that will warm your heart. Suva Svinjska Rebra is a "must" for two classic Serbian dishes: "Pasuli," a popular bean dish served as a broth or a soup and "Kiseli Kupus," a traditional casserole made with white cabbage or sauerkraut. George's Smoked Dry Pork Ribs will infuse anything you create with delicious, rich smoky pork flavor.
Item
| | |
| --- | --- |
| Item Package: | Approx. 20lb case |
| Item dimensions - LxWxH (inches): | 7 x 6.9 x 1 |
| Item weight (lbs): | 1.3 |
| Country of Origin: | United States |
| Storage: | Keep refrigerated. |
Pork ribs, salt, pepper, garlic, sodium nitrite, hickory smoked.