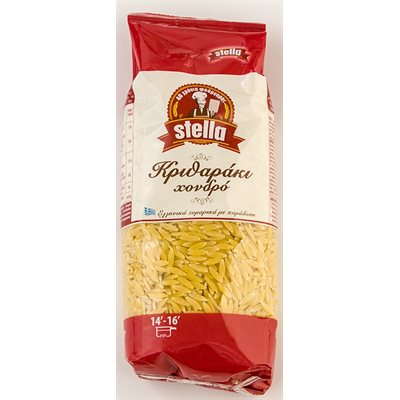 STELLA Orzo
500g bag
Item #:10404
Orzo are short-cut pieces of Italian pasta that look like large, flat grains of rice. Classified as "pastina" in Italian, this tiny pasta is traditionally used in soups, pilafs, salads, side dishes and casseroles. Work your magic with Stella Orzo (Kritharáki) as you would any other pasta: boiled in salted water or cooked as you would rice. To amplify the inherent nuttiness of this petite pasta, toast the orzo for a few minutes in olive oil or butter, (garlic optional) before adding your cooking liquid. If you are using Stella Orzo in a bulgur or rice pilaf, toast all of the ingredients together before adding water, veggie or chicken stock for a more flavorful dish. Stella Orzo is a wonderful pasta for a Greek-inspired cold salad with tomatoes, onion, cucumber, chickpeas, Feta cheese, chopped parsley and mint. For a delicious warm side dish, serve Stella Orzo al dente with garlic and spinach sautéed in olive oil, topped with cooked peas, grated parmesan cheese and lemon zest. Any soup calling for orzo, barley, rice or quinoa will shine with Stella Kritharáki! In Greece, orzo is a popular ingredient in lemony Chicken Avgolemono Soup and a classic component in "Youvetsi" (or "Giouvetsi") a traditional casserole made with ground meat, bathed in a light tomato sauce often seasoned with garlic and cinnamon, and topped with cheese. Once you start working with Stella Orzo, you will find it a wonderful culinary blank canvas for your creations.
Item
| | |
| --- | --- |
| UPC: | 5201077015002 |
| Item Package: | 500g bag |
| Item dimensions - LxWxH (inches): | 6.2 x 3.1 x 2 |
| Item weight (lbs): | 1.1 |
| Country of Origin: | Greece |
| Storage: | Store in a cool, dry place. |
Durum wheat semolina, water.