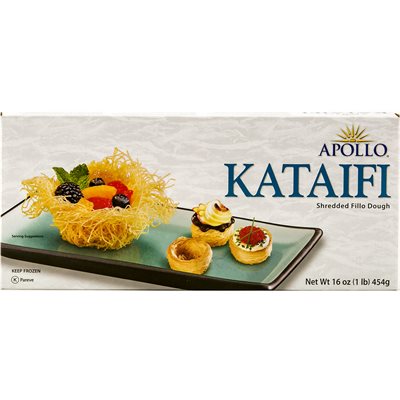 APOLLO Kataifi
1lb box
Item #:A32330
Kataïfi is a wonderfully light shredded phyllo dough in the form of long, thin angel hair-like strands. Alternatively known as 'Kataif" or "Kunafeh," Kataïfi, it is the traditional pastry used in myriad of traditional Greek, Turkish, Balkan and Arab desserts. Interestingly, in all cases, the dough is also the name of the finished prepared desserts. Our Kataïfi is just the pastry base you'll need for Greek Kataïfi, a confection of chopped nuts, cinnamon and butter, which is rolled into the form of nests. To make this elegant treat, drizzle Apollo Kataïfi with butter, then layer and roll or nest almonds, pistachios or walnuts mixed with butter, sugar, cinnamon or cardamom. After baking, drench the pastry sheet, or individual pastries, in a honey, rosewater, orange water or lemon simple syrup. Our Kataïfi is also the perfect dough for the delectable classic Arab sweet confection, kunafeh (made the addition of cheese) and for the delicious Ramadan staple, kunafa (made with the addition of dried apricots). This unique dough can also be used to add texture to vanilla ice cream sundaes with fresh bananas and caramel or chocolate sauce. Just sauté kataïfi with butter and sugar until it caramelizes and add to the sundae. Kataïfi can also be used as a crispy coating for shrimp, scallops or chicken. Once you start working with Apollo Kataïfi, you'll find the applications never end.
Item
| | |
| --- | --- |
| UPC: | 07470232330 |
| Item Package: | 1lb box |
| Item dimensions - LxWxH (inches): | 11.3 x 4.8 x 1.9 |
| Item weight (lbs): | 1.1 |
| Country of Origin: | United States |
| Storage: | Keep frozen. |


Water, enriched wheat flour (wheat flour, niacin, iron, thiamine mononitrate, riboflavin, folic acid), modified food starch, corn starch, canola oil, soy lecithin, salt, preservatives (calcium and/or sodium propionate, potassium sorbate), vital wheat gluten, dextrose, maltodextrin, citric acid.