Marco Polo Ajvar – A delicious, versatile and all-natural red pepper spread.
Marco Polo Ajvar (pronounced eye-var) is a traditional Balkan spread made from roasted red bell peppers, eggplant, garlic, oil and salt. Our Classic and Homestyle recipes – available in Mild and Hot varieties – are traditionally served as a spread on toast but can be used to enhance the flavor of roasted chicken and meat dishes as well. Ajvar is also delicious as a dip and a healthy condiment on your favorite sandwich.
Treat your family to Marco Polo Ajvar today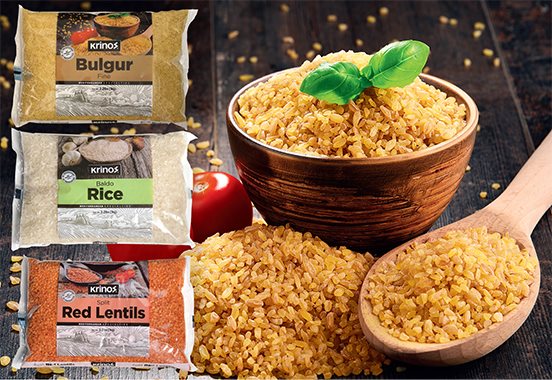 Keep your heart heathy with Krinos bulgurs, rice and lentils.
Rich in fiber, protein and antioxidants, Krinos Bulgur, Baldo Rice and Split Red Lentils are all part of a heart-healthy diet. Enjoy four varieties of bulgur – from extra fine to extra coarse – plus pearled wheat and bulgur mixed with vermicelli.
Keep Krinos grains, rice and legumes in your pantry today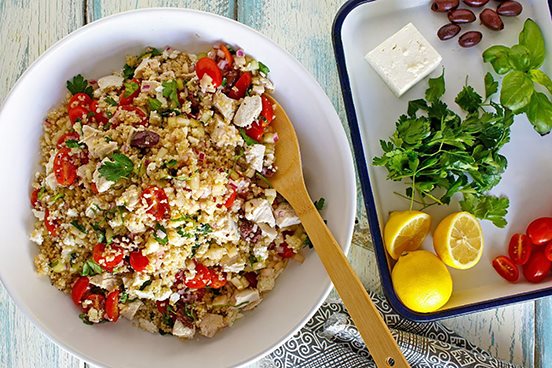 A perfect (and healthful) salad for spring.
Our Greek Bulgur Salad with Chicken is full of crunchy veggies, creamy feta and kalamata olives and then dressed in a fresh lemon vinaigrette. Together, the flavors and textures make a delightful, low-cholesterol and fiber-rich dish. Serve with a crusty bread or pack it in a pita for an easy to-go lunch.
Add a Greek Bulgur Salad to your warm weather favorites