Delicious and healthful Krinos Olives.
Start your summer evenings off right with an antipasti platter featuring Krinos Olives. From Greece's beloved Kalamata to the salty Oil-Cured variety from Morocco, olives are packed with vitamins and antioxidants and are a staple of the heart-healthy Mediterranean Diet. Krinos Olives are ready-to-serve and are often enjoyed in salads and tapenades, on sandwiches and pizzas, and right out of the jar as a low calorie snack.
Treat your family and friends to Krinos Olives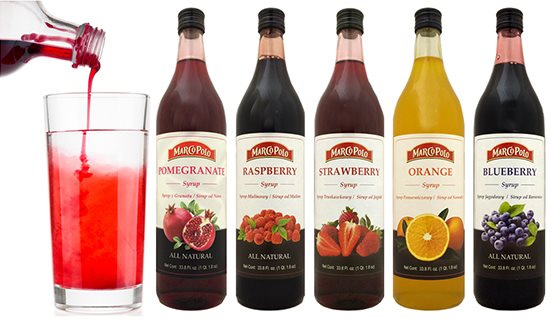 Enjoy the fruity flavor of Marco Polo Syrups.
Bursting with the bright flavor of fresh juice, Marco Polo Syrups are all-natural, and contain no preservatives or artificial flavors. Mix our syrups with sparkling or still water for a refreshing drink, or enjoy them drizzled over baked goods, ice cream or yogurt. Marco Polo Syrups are available in a wide variety of fruits, including pomegranate, raspberry, strawberry, orange, blueberry and black currant.
Add Marco Polo Syrups to your summer shopping list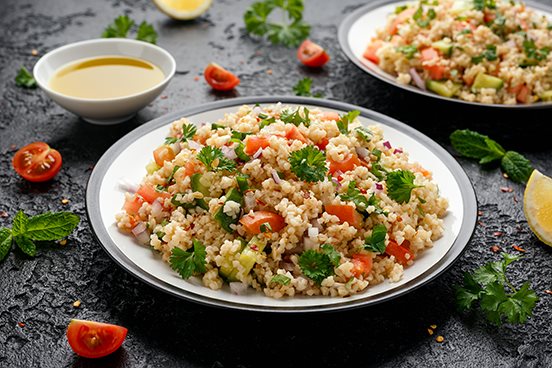 Bulgur and Veggies - a perfect summer salad.
Vegetarians and carnivores alike will love this colorful bulgur salad that's healthy, simple and delicious. Mixed with fresh tomatoes, cucumbers and parsley, and a delicious lemon dressing that bumps up the flavor, this tasty salad is the perfect low-carb summer salad. Serve fiber-rich bulgur salad as an entrée or as a side with your favorite grilled meats or fish.
Make Bulgur with Tomatoes and Cucumber your go-to side dish