Delicious ION ChocoFreta wafers.
ION ChocoFreta are thin vanilla-flavored waffle cookies with an assortment of creamy fillings - all wrapped in silky ION chocolate. This chocolate lover's delight is a delicious after school and after-meal treat and a perfect garnish to any ice cream. ION ChocoFreta are available with Milk Chocolate, Hazelnut-Chocolate and Semi-Sweet Chocolate fillings.
Make ION ChocoFreta wafers a new family favorite
Everything tastes better with Feta.
Feta is one of the most popular cheeses in the world and is prized for its crumbly texture and tangy, milky flavor. A wonderful addition to a holiday cheese or meze platter, Krinos Greek Feta is also perfect for salads, omelets, roasted vegetables and pasta dishes. An excellent source of probiotics, calcium and protein, and naturally low in fat, Krinos Greek Feta is one of the most healthful cheeses you can eat.
Enjoy Krinos Greek Feta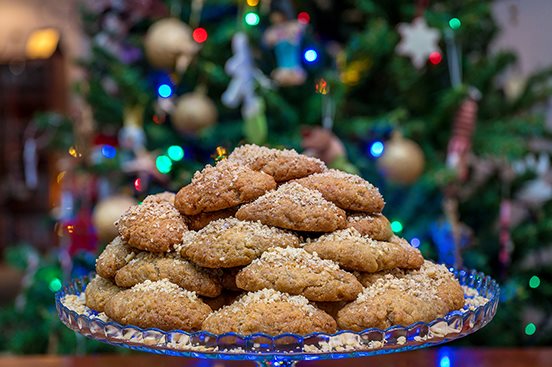 Melomakarona – A delicious Greek holiday tradition.
Melomakarona are soft, oval-shaped Greek cookies scented with orange and cinnamon, drenched in honey syrup and covered with crushed walnuts. These sweet biscuits are easy to prepare using ingredients usually found in your pantry and take only 15 minutes to bake. Serve Melomakarona with your favorite hot drink (or a glass of eggnog) or pack them into flavorful holiday gifts for family and friends.
Treat your family and friends to Melomakarona this holiday season