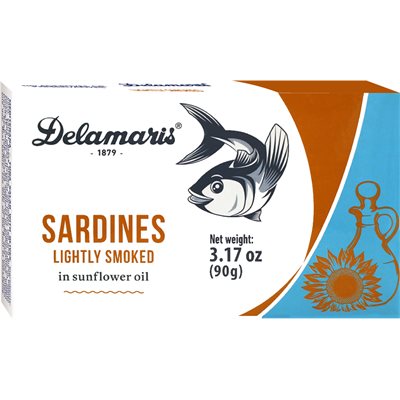 DELAMARIS Lightly Smoked Sardines in Sunflower Oil
90g tin
Item #:70424
Many scholars believe sardines are named for the Italian island of Sardinia, where large schools of the small silvery fish were first discovered. Sardines are not only delicious but one of the healthiest and most nutrient-dense fish one can consume. Rich in inflammation-fighting omega-3 fatty acids, vitamin B12 and selenium, sardines provide one of the rare natural sources of vitamin D. At Delamaris, we have been bringing the bounty of the sea to consumers since 1879, with the highest quality fish and time-tested recipes. Our Lightly Smoked Sardines in Sunflower Oil feature sardines in sunflower oil, seasoned with just the right amount of smoke and salt. Enjoy our lightly smoked sardines right out of the tin – on crackers or toast with a squeeze of lemon and chopped parsley. Top with sliced cucumber, tomato, avocado and/or onion for a delicious sandwich or appetizer spread. Delamaris Lightly Smoked Sardines in Sunflower Oil are a great ingredient for fish tacos – wrapped in warm tortillas with spicy aioli, diced tomatoes, shredded lettuce and guacamole. And they are delicious in sardine cakes, with mashed potatoes, Greek yogurt, mayo, capers and parsley. For a mouthwatering smoky dip or pâté, blend our sardines with light cream cheese or sour cream, diced white onions and pepper – and serve with salty tortilla chips, crudité or crusty bread. The American Heart Association recommends at least two servings/week of fatty, oily fish like sardines, mackerel, tuna, salmon or herring. Delamaris fish products are entirely natural, with no additives or preservatives. Refrigerate after opening.
Item
| | |
| --- | --- |
| UPC: | 3838929411693 |
| Item Package: | 90g tin |
| Item dimensions - LxWxH (inches): | 4.2 x 2.5 x 0.7 |
| Item weight (lbs): | 0.2 |
| Country of Origin: | Croatia |
| Storage: | Refrigerate after opening. |


Sardines (fish), sunflower oil, edible salt smoked flavor.