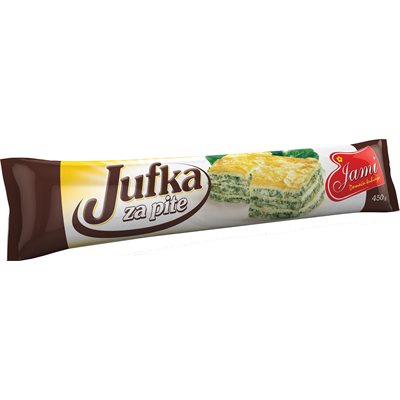 JAMI Jufka for Pies (Za Pite)
450g roll
Item #:82102
In the Mediterranean, Middle East and the Balkans, "pita" means "pastry" or "pie." Pita is the moniker for a host of traditional dishes – like Spanakopita (spinach and cheese pie) and Tiropita (cheese pie) – enrobed in delicate layers of phyllo dough. If you grew up in the Balkans, Jami Jufka for Pita (Za Pite) is just the dough you'll need to make sumptuous savory or sweet pastries and pies, with a taste that will remind you of home! Our Jufka is perfect for homemade Burek: phyllo-wrapped pastries filled with cheese, spinach, potato and/or ground meat – or fruit like apples and cherries. Jami Jufka for Pita is just the ingredient you'll need to make authentic Pita Zeljanica (filled with spinach and feta), Pita Sirnica (filled with a mixture of feta, ricotta and sour cream or cottage cheese), Pita Krompiruša (filled with potatoes and onions) or Tikvenica (filled with pumpkin or butternut squash). Whether you are shaping your pita into an individual or a family size portion, your masterpieces will shine with our jukfa dough, as they bake to a perfect golden brown. Jami Jufka for Pita can be folded, layered, ruffled and rolled with the sweet and savory ingredients of your choosing. Because phyllo is low in fat and cholesterol, it is a healthier alternative to regular and puff pastry dough.
Item
| | |
| --- | --- |
| UPC: | 2038718 309366 |
| Item Package: | 450g roll |
| Item dimensions - LxWxH (inches): | 13.6 x 1.9 x 1 |
| Item weight (lbs): | 1 |
| Country of Origin: | Bosnia |
| Storage: | Keep frozen. |
Wheat flour, water, sunflower oil, corn starch, wheat gluten, preservative, emulsifier, flour treatment.