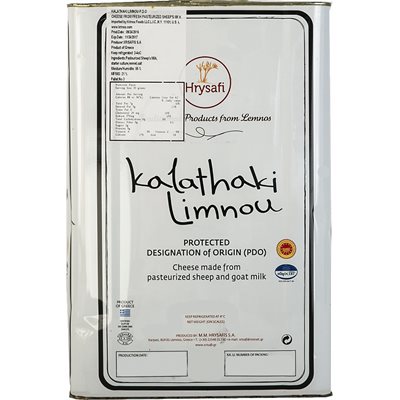 KARALIS Kalathaki Limnou
5gal tin
Item #:22218
Made exclusively on the Greek Island of Lemnos with a PDO (Protected Designation of Origin), Kalathaki Limnou is a popular cheese in Greece and prized by cheese connoisseurs worldwide. This whitish colored cheese is made from the fresh milk of sheep and goats grazing on wild grasses indigenous to the island of Lemnos and benefitting from its Aegean Sea breezes. "Kalathaki" means "little basket" in Greek, and explains the unique production method required for this special cheese. Our cheesemakers delicately place the curds into small wicker baskets, giving the cheese its unique form with striations on the side. The baskets are then dipped in a salt brine and aged. The result is a soft-textured cheese with a slightly sour and salty taste. Traditionally served as a table cheese, Krinos Kalathaki Limnou is wonderful in omelets, with pasta and over vegetables. Low in fat and rich in probiotics, calcium and protein, this is a cheese you and your family can feel good about.
Item
| | |
| --- | --- |
| Item Package: | 5gal tin |
| Item dimensions - LxWxH (inches): | 9.5 x 9.4 x 13.5 |
| Item weight (lbs): | 44.65 |
| Country of Origin: | Greece |
| Storage: | Keep refrigerated. |
Pasteurized sheep milk, pasteurized goat milk, sea salt, started culture, rennet of animal origin.