Home

>

KELEMEN Csiga Spiral Egg Noodles 200g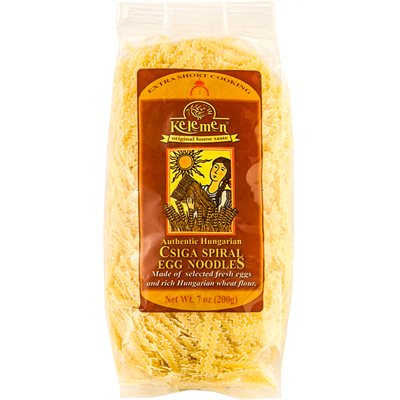 KELEMEN Csiga Spiral Egg Noodles
200g (7oz) bag
Item #:70607
In Hungary, egg noodles are a source of national pride, inextricably linked to the country's cuisine and culture. With hundreds of shapes to choose from, egg noodles have a place at virtually every meal - from breakfast through dinner and dessert. While Italian pasta is made with Durum wheat semolina and water, Hungarian egg noodles are made exclusively with wheat flour and eggs. At Kelemen, our Csiga Spiral Egg Noodles are made with select fresh eggs and enriched Hungarian wheat flour, for a flavor that tastes homemade! Csiga means "snail" in Hungarian; the small corkscrew pasta was meant to look like a snail inside its shell. In Hungary, chicken soup with egg noodles is served at Sunday dinners, family celebrations, weddings and christenings. Of the myriad soup noodle shapes and sizes, Csiga noodles have a specific place in Hungarian culture. For many centuries, Chicken Soup with Csiga Spiral Egg Noodles has been served at weddings because the snail-shaped noodles were believed to promote fertility. Today, most Hungarians would tell you that no wedding is complete without this special soup! Add Kelemen Csiga Spiral Egg Noodles to your favorite homemade chicken soup, or to an Italian Wedding Soup for a taste of authentic old-world flavor.
Item
| | |
| --- | --- |
| UPC: | 616618400073 |
| Item Package: | 200g (7oz) bag |
| Item dimensions - LxWxH (inches): | 5.6 x 2.8 x 1.1 |
| Item weight (lbs): | 0.45 |
| Country of Origin: | Hungary |
| Storage: | Store in a cool, dry place. |

Enriched flour and eggs.