Home

>

KELEMEN Grated Noodles 250g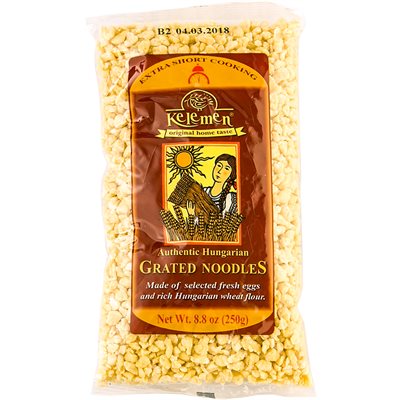 KELEMEN Grated Noodles
250g (8.8oz) bag
Item #:70605
Egg noodles are a source of national pride in Hungary, with a place at virtually every table - from breakfast through dinner and dessert. With hundreds of shapes to choose from, Hungarian egg noodles are inextricably linked to the country's cuisine and culture. Grated Noodles ("Tarhonya" in Hungarian) are uneven pellet-shaped pieces of pasta also known as Egg Barley, Egg Drops and Egg Farvel. Not to be confused with Trahana or Tarhana, but derived from the same names, Tarhonya were a popular food source for nomadic Magyar tribes first mentioned in 16th century Hungarian cookbooks. Today, Grated Noodles are used in a wide array of traditional and modern Hungarian cuisine: from soups and stews, to side dishes and one-pot meals. Because grated noodles will double in size once they are cooked, they are sometimes called "little dumplings." At Kelemen, our Grated Noodles are made with select fresh eggs and enriched with Hungarian wheat flour, with a flavor that tastes homemade! In Hungary, Tarhonya is traditionally fried in butter (or lard) until golden brown on low heat before any cooking liquid is added. To make the popular side dish called "Tarhonya Rivilchas," add diced onions and paprika to the browned Kelemen Grated Noodles before boiling. Kelemen Grated Noodles are the perfect ingredient you'll need to for "Tarhonyaleves," a classic Hungarian Egg Barley soup made with potatoes, tomatoes, bell pepper, bacon and paprika. Our Tarhonya make a wonderful buttered egg noodle base for Chicken Paprikash and are delicious in "Kaposztás Tészta," a classic noodle dish made with grated white cabbage sautéed in butter with onions. Kelemen Grated Noodles should be prepared as you would any pasta, rice or risotto.
Item
| | |
| --- | --- |
| UPC: | 616618400059 |
| Item Package: | 250g (8.8oz) bag |
| Item dimensions - LxWxH (inches): | 6.7 x 3.6 x 1.1 |
| Item weight (lbs): | 0.55 |
| Country of Origin: | Hungary |
| Storage: | Store in a cool, dry place. |

Enriched flour and eggs.