Home

>

KRINOS Bulgur #1 (Fine) 1kg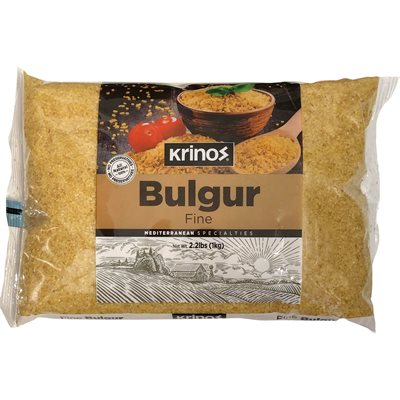 KRINOS Fine Bulgur (#1)
2.2lb (1kg) bag
Item #:40551
Bulgur has been a staple food in Mediterranean and Middle Eastern diets for many millennia, and in Turkish cuisine for over 1,000 years. Made from Durum wheat that is parboiled in water, sun-dried and milled into distinct grain sizes, bulgur is also one of the healthiest grains one can consume! Krinos Fine Bulgur (Köftelik) is a fine-grained yellow bulgur and a wonderful culinary ingredient for soups, salads, desserts and breads. Fine bulgur is ingredient of choice for the cold Middle Eastern salad, tabbouleh, and for kibbeh, traditional Levantine stuffed fried meatballs filled with ground meat, onions, Middle Eastern spices and sometimes pine nuts. Tabbouleh is made with lots of finely chopped parsley, diced tomatoes and bulgur and seasoned with olive oil, fresh lemon juice, salt, pepper, and sometimes mint. Because bulgur is already cooked, all you need to do, for cold salads like tabbouleh, is to soak the grains in warm water before using them. To enhance the inherent nuttiness of this delicious "supergrain," for a hot side dish or one-pot meal, pan sauté our fine bulgur in olive oil or butter for 3 to 5 minutes and add your cooking stock and aromatics.  Krinos Bulgur is rich in fiber, antioxidants and protein, and helps with satiety, heart health and anemia. This light and nutty grain also helps to balance the body's pH and is a good source of manganese, b vitamins, folic acid, iron and magnesium. Bulgur has a significantly lower glycemic index than pasta or rice and is a great grain for diabetics, vegans and vegetarians. Because bulgur is a wheat product, it is not recommended for anyone with Celiac Disease or with a gluten intolerance.
Item
| | |
| --- | --- |
| UPC: | 075013405517 |
| Item Package: | 2.2lb (1kg) bag |
| Item dimensions - LxWxH (inches): | 9.5 x 6.75 x 1.5 |
| Item weight (lbs): | 2.2 |
| Country of Origin: | Turkey |
| Storage: | Store in a cool, dry place. |






Durum wheat.