Home

>

KRINOS Bulgur with Vermicelli 1kg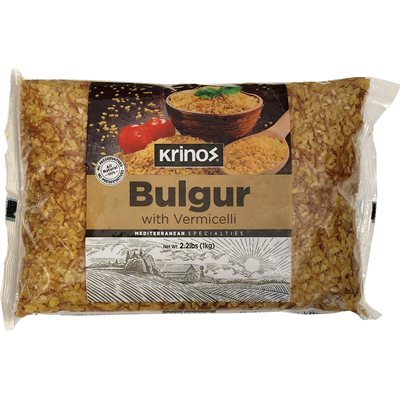 KRINOS Bulgur with Vermicelli
2.2lb (1kg) bag
Item #:40554
At Krinos, we've taken some of the hard work out of preparing delicious bulgur pilaf for you! Our Course Bulgur with Vermicelli contains 75% coarse bulgur and 25% roasted vermicelli noodles. Bulgur is made from Durum wheat that is parboiled in water, and sun-dried and milled into distinct grain sizes. Vermicelli are Italian noodles broken into pieces, and a classic pilaf ingredient. The best way to work with Krinos Coarse Bulgur with Vermicelli is to toast the mixture in butter for about 5 minutes to bring out the inherent nuttiness of the bulgur. While water will work, boiling our pilaf mixture in veggie or chicken stock will impart extra flavor to the final dish. Add diced yellow onions to the pilaf mixture, with salt, pepper and other aromatics before adding your cooking stock. Add yellow raisins to the mixture and top with toasted almonds for a wonderful Moroccan-inspired pilaf. Top with Greek or Turkish yogurt and lemon zest for a refreshing side dish. Add small cooked lentils to the cooked pilaf for an extra protein-rich meal. Or add ground beef or lamb to the mixture and top with toasted pine nuts and fresh parsley or mint for a wonderful one-pot meal. Krinos Coarse Bulgur with Vermicelli requires less cooking time than rice pilaf. Even better, it is one of the healthiest grains one can consume! Bulgur has a significantly lower glycemic index than pasta or rice, making it a great grain for diabetics. Rich in fiber, antioxidants and protein, bulgur also helps with satiety, heart health and anemia. This light and nutty grain also helps to balance the body's pH and is a good source of manganese, b vitamins, folic acid, iron and magnesium. A wonderful grain for vegans, vegetarians and meat eaters, bulgur is not recommended for anyone with Celiac Disease or with a gluten intolerance. Let Krinos Coarse Bulgur with Vermicelli be a blank canvas for your culinary imagination!
Item
| | |
| --- | --- |
| UPC: | 075013405548 |
| Item Package: | 2.2lb (1kg) bag |
| Item dimensions - LxWxH (inches): | 9.5 x 6.75 x 1.5 |
| Item weight (lbs): | 2.2 |
| Country of Origin: | Turkey |
| Storage: | Store in a cool, dry place. |






Durum wheat.