Home

>

KRINOS Greek Kalamata Crown Figs 14oz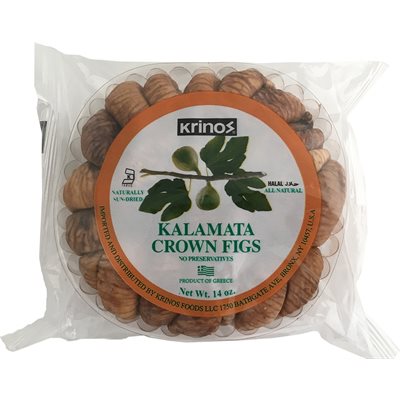 KRINOS Kalamata Sun-Dried Figs
14oz (400g) pack
Item #:26024A
Figs are the world's original "superfood," with first evidence of use dating back to 9,000 B.C. Native to Europe and the Middle East, figs have been a staple of the heart-healthy Mediterranean and Middle Eastern diets since antiquity. In ancient Greece, figs were fed to Olympic athletes in training and offered, in wreaths to the victors. Of course, figs are also mentioned in the Bible along with fig leaves in the Garden of Eden! Today, Greece is one the world's largest producers of figs. Because the fig harvesting season is so short, almost 90% of figs are sold dried. Krinos Kalamata Crown Figs hail from the sun-drenched city of Kalamata. All natural, and naturally sun dried, our plump and juicy figs are sweet, dense, chewy and packed with flavor! Krinos Kalamata Crown Figs are also one of the healthiest fruits one can consume. Rich in calcium, potassium, iron, magnesium and vitamins B6 and E, our sun dried figs make a nutritious, on-the-go treat and a great addition to a cheese and nut platter. Dice our figs into your morning oatmeal, Greek yogurt or a yogurt smoothie with fresh walnuts and a drizzle of honey. Use them to create a Mediterranean-inspired stuffing for your next Thanksgiving Turkey. For an irresistible flatbread pizza, serve our figs, diced, with caramelized onions and goat cheese, or prosciutto and gorgonzola, topped with arugula and a drizzle of aged Balsamic vinegar. Or use our plump dried figs as the basis a delectable pan sauce for duck, pork and lamb. Krinos Kalamata Crown Figs are a wonderful component for homemade granola and can be used in cookies, muffins, scones and most baked goods. Before adding figs into a batter, coat them with flour so they don't sink to the bottom of your baked masterpiece. A chef's tip for cutting our figs: because dried figs are inherently sticky, freeze them for an hour before slicing them. You might find using scissors is easier than using a knife. To reconstitute our figs, soak them in water that has just finished boiling, so the figs are barely covered, and let them sit for 2 to 4 hours. Krinos Kalamata Crown Figs can be stored in the refrigerator for up to six months.
Item
| | |
| --- | --- |
| UPC: | 075013118011 |
| Item Package: | 14oz (400g) pack |
| Item dimensions - LxWxH (inches): | 4.7 x 4.4 x 1.5 |
| Item weight (lbs): | 0.9 |
| Country of Origin: | Greece |
| Storage: | Store in a cool, dry place. |




Sun-dried figs.