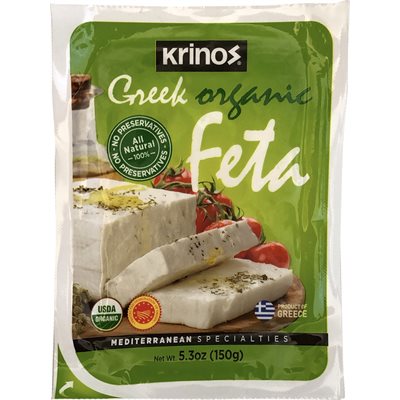 KRINOS Greek Organic Feta Cheese
150g vac pack
Item #:21334
If there is one quintessentially Greek cheese, it's feta! Feta has been a core component of the heart-healthy Mediterranean Diet since antiquity. Today, feta is a pantry staple in almost every Mediterranean household – and one of the most popular cheeses in the world. Of all the countries that produce this brined cheese, feta from Greece is considered to be the gold standard: prized for its crumbly, creamy texture and tangy, milky flavor. Only Feta made in specific regions of Greece, like Epirus, are accorded a PDO (Protected Designation of Origin) by the European Union. At Krinos, our Greek Organic Feta Cheese is made with 100% pure organic sheep's milk collected by small certified organic milk producers in Epirus in southern Greece. Brined and aged according to traditional methods for over 90 days, our organic PDO feta is as healthy as it is delicious! Feta is one of the lowest fat cheeses one can consume and a rich source of probiotics, calcium and protein. Because Krinos Greek Organic Feta is certified organic, it is the perfect choice for health-conscious cheese-lovers. Our feta is a "must" for any Greek Salad or Meze table, with a drizzle of olive oil and dried oregano. Crumble our organic feta into a watermelon, arugula and Kalamata olive salad for the perfect marriage of sweetness and tang. For a delicious Mediterranean- inspired quinoa salad, add Krinos Greek Organic Feta to the cooked grains along with diced tomatoes and cucumbers, chickpeas, Kalamata olives and onions. Toss with olive oil, a splash of sherry wine vinegar and dried oregano and serve. For an elegant warm flatbread, crumble our organic feta over a layer of fig jam, top with arugula and drizzle with olive oil and balsamic vinegar. To add instant "Greek flare" to salads, omelets, pasta, roasted veggies, burgers, kebabs, poultry and fish dishes, dips and spreads, add Krinos Greek Organic Feta and oregano. Once you start working your magic with our organic feta, you will find the culinary possibilities for this excellent cheese are almost endless.
Item
| | |
| --- | --- |
| UPC: | 075013213341 |
| Item Package: | 150g vac pack |
| Item dimensions - LxWxH (inches): | 5.5 x 4 x 0.75 |
| Item weight (lbs): | 0.45 |
| Country of Origin: | Greece |
| Storage: | Keep refrigerated. |




100% organic pasteurized sheep's milk, salt, lactic culture, rennet.