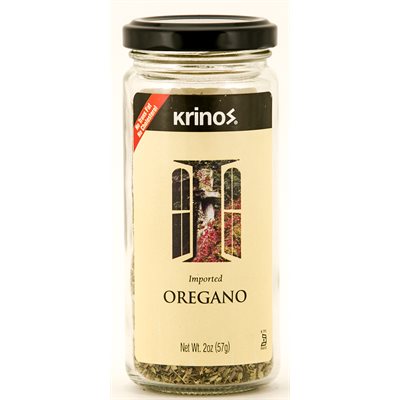 KRINOS Oregano
2oz jar
Item #:17409
For thousands of years, oregano been used as a healing herb in traditional medicinal practices. Today, the essential oil derived from the oregano plant is still revered for its homeopathic properties. Rich in antioxidants, vitamins and minerals, oregano is antibacterial and antifungal and can help ward off colds and flus. From a culinary standpoint, oregano is the "quintessential" Greek herb. Interestingly, it is most aromatic in its dry form. Mountain-grown and sun-dried, Krinos Oregano is wonderfully fragrant. We filter our oregano through the finest mesh sifters for a product that is entirely pure and stem-free. A staple of the healthy Mediterranean Diet, this fragrant herb has almost endless culinary applications. A must for any Greek Salad and the perfect seasoning for a slice of pizza, Krinos Oregano will add instant Greek flare to any dish! Use it to add vibrancy to omelets and frittatas, rubs and marinades, dips, sauces and stews.
Item
| | |
| --- | --- |
| UPC: | 075013228505 |
| Item Package: | 2oz jar |
| Item dimensions - LxWxH (inches): | 2.2 x 2.2 x 5.1 |
| Item weight (lbs): | 0 |
| Country of Origin: | Greece |
| Storage: | Store in a cool, dry place. |

Oregano.