Home

>

MELISSA Coarse Semolina 500g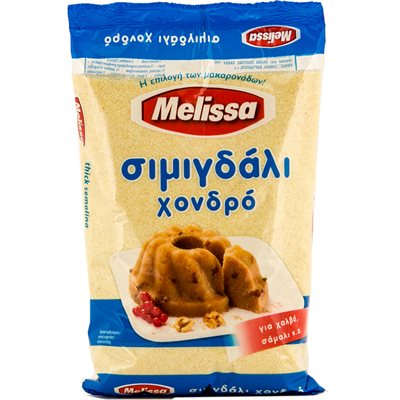 MELISSA Coarse Semolina
500g bag
Item #:10020
If you are a baker or pasta maker, semolina – the ground endosperm of Durum wheat – will need no introduction! Semolina is an indispensable ingredient for authentic Italian-style pasta and North African couscous. It is used in a myriad of classic baked goods, puddings and warm breakfast cereals. True semolina is yellow in color thanks to an abundance of carotenoids in the Durum wheat. Rich in protein and with a high gluten and low moisture content, semolina has a slightly sweet, nutty flavor. Melissa Coarse Semolina has just the right texture to add beautiful crumb to your sweet and savory preparations. Our Coarse Semolina is the perfect ingredient for a Halva, a sumptuous semolina pudding cake made with olive oil, honey and sugar, laden with raisins, walnuts and pine nuts and seasoned with cloves, cinnamon and orange or lemon peels. Coarse semolina is also the ingredient of choice for Samali, a traditional Greek cake made with semolina, yogurt and mastic gum powder, steeped in lemon simple syrup. Melissa Coarse Semolina makes a delicious porridge with honey or maple syrup and dried fruits and nuts. To add Middle Eastern and Mediterranean flavor to your porridge, sweeten it with a lemon, orange or rosewater simple syrup. If you love making homemade pizza, coat the bottom of your pan with a thin layer of coarse semolina for extra crunch and to prevent sticking. Many pasta, cake and bread recipes call for both fine and coarse semolina. At Melissa, we make both! Once you start experimenting with our Coarse and Fine Semolina, they could become indispensable pantry items.
Item
| | |
| --- | --- |
| UPC: | 5201193120130 |
| Item Package: | 500g bag |
| Item dimensions - LxWxH (inches): | 7.5 x 4.5 x 1.5 |
| Item weight (lbs): | 1.1 |
| Country of Origin: | Greece |
| Storage: | Store in a cool, dry place. |

100% durum wheat semolina.