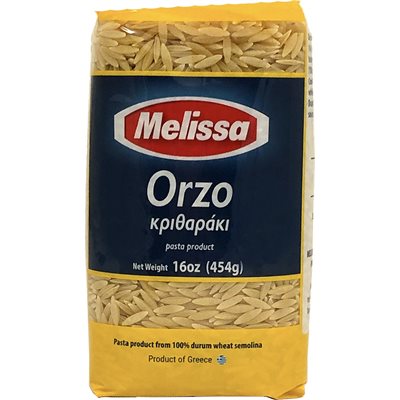 MELISSA Orzo
16oz (454g) bag
Item #:10000A
Orzo, or Kritharáki in Greek, are short-cut pieces of pasta that look like flattened rice. Traditionally used in pilafs, soups, salads and casseroles, orzo is a wonderful foundation for an elegant meal instead of rice or polenta. In Greece, Orzo is traditionally used in Youvetsi" or "Giouvetsi." a casserole made with ground lamb or beef, bathed in a light tomato sauce seasoned with garlic and cinnamon and topped with feta cheese. Orzo is also a popular pasta choice for the classic Chicken Kokkinisto: chicken braised in tomato sauce, seasoned with garlic, onions, white wine and cinnamon. Orzo is also often used, instead of rice, in the iconic lemony Chicken Avgolemono Soup. For a delicious Greek-inspired one-pot dish, serve Melissa Orzo with sautéed onions, garlic, diced tomatoes and shrimp, white wine (optional), seasoned with oregano and topped with tangy Feta cheese. If you are a fan of pilafs, Melissa Orzo is a perfect for rice and bulgur pilafs. To enhance the inherent nuttiness of our orzo, toast it along with the rice or bulgur, in butter or olive oil for a 4-5 minutes with salt and garlic (optional) before adding your cooking liquid. For a quick and easy side dish, serve our orzo with tomato sauce and Feta or parmesan cheese. Orzo is a wonderful binder for stuffed vegetables and pairs beautifully, as a warm side dish, with roasted chicken or lamb.
Item
| | |
| --- | --- |
| UPC: | 075013210050 |
| Item Package: | 16oz (454g) bag |
| Item dimensions - LxWxH (inches): | 5.75 x 3.2 x 1 |
| Item weight (lbs): | 1 |
| Country of Origin: | Greece |
| Storage: | Store in a cool, dry place. |




Durum wheat semolina, water.