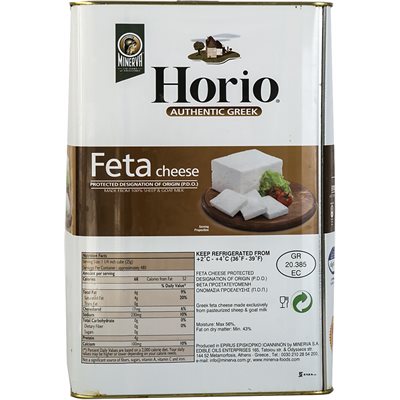 HORIO Feta Cheese
12kg tin
Item #:21323
The traditional cheese of Greece and a staple in most households bordering the Mediterranean, Feta is renowned for its tangy flavor and crumbly texture. Made from 100% pure sheep's milk, Minerva Feta Cheese is made according to an ancient recipe. We let our Feta patiently brine and age until it achieves the full bodied-texture and sharp flavor that make this cheese a worldwide favorite. Enjoy our Feta in a Greek Salad, or in any salad of your choosing. Use this versatile cheese to add bright tang to omelets, dips and sauces. For a wonderful warm summer pasta sauté fresh garlic in Extra Virgin Olive Oil and then coat the cooked pasta of your choice in the pan. In a serving dish, top the pasta with sliced Kalamata Olives, fresh tomatoes and basil and sprinkle with Minerva Feta Cheese. With a milky taste and pleasingly sharp bite, our Feta will enhance the flavor profile of any dish! A rich source of pro-biotics, calcium and protein, Feta is one of the lowest fat cheeses out there.
Item
| | |
| --- | --- |
| Item Package: | 12kg tin |
| Item dimensions - LxWxH (inches): | 9.7 x 9.1 x 13.8 |
| Item weight (lbs): | 43.6 |
| Country of Origin: | Greece |
| Storage: | Keep refrigerated. |

Fresh pasteurized sheep milk, Salt (2,3% or 3,0 %), Lactic culture, Rennet.