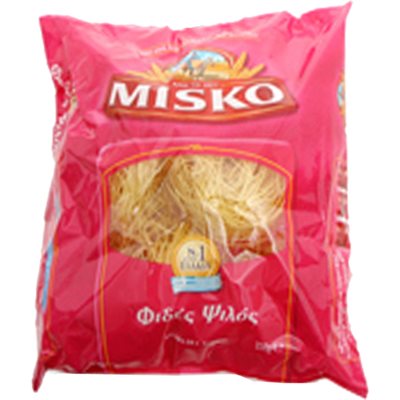 MISKO Fides
500g bag
Item #:10106
Pasta has been a part of the Mediterranean diet since ancient Greece. While many forms of pasta are universal, each nation has its own regional traditions and specialties for this universal comfort food. Fides ("Fidelini" in Italian) are long strands of delicate angel hair pasta formed into the shape of discrete and beautiful nests. In Greece, these noodles are classically used in soups like the lemony Chicken Avgolemono Soup or served with a hearty tomato and meat sauce. At Misko, we have been making traditional Italian-style pasta in Greece since 1927. Misko Fides (Vermicelli Nests) are a wonderful ingredient for vegetable, chicken and fish soups. They are lovely presented intact, in the center of each bowl or mixed into whatever soup you're making. Once you start working with these versatile noodles, you will find Misko Vermicelli Nests pair beautifully with light and rich sauces. For a mouthwatering rice or bulgur pilaf, break the Fides into tiny pieces and toast them, along with the grains you're using, in olive oil or butter before adding your cooking liquid. You don't have to be Greek to love our Fides!
Item
| | |
| --- | --- |
| UPC: | 5201010105135 |
| Item Package: | 500g bag |
| Item dimensions - LxWxH (inches): | 7.9 x 7.9 x 0.9 |
| Item weight (lbs): | 0.4 |
| Country of Origin: | Greece |
| Storage: | Store in a cool, dry place. |

Durum wheat semolina, water.