Home

>

Feta

>

KATUN White Cow's Milk Cheese 800g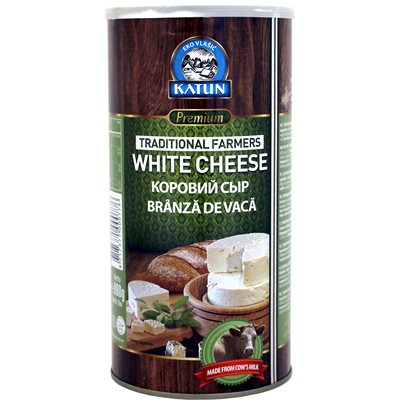 KATUN Travnicki (Cow's Milk) Cheese
800g tin
Item #:22805
If you grew up in one of the former Yugoslavian Republics, Travnicki Sir, a brined white cheese made from cow's milk, will need no introduction! One of the most popular cheeses in the region, Travnicki Sir (which translates to "cheese from Travnik") is made exclusively in central Bosnia and Herzegovina. Katun White Cow's Milk Cheese (Travnicki Sir) is made with milk from cows grazing on the Vlašic Mountain. As has been done for centuries, we brine and age our delicious cheese in wooden vats for at least 60 days. Akin to Greek Feta and Turkish Beyaz Peynir, Katun White Cow's Milk Cheese is crumbly in texture and has a tangy, milky, slightly salty flavor. In the Balkans, white cheeses are enjoyed throughout the day: at breakfast, on meze platters, in Shopska Salads (made with tomatoes, cucumbers, raw or roasted peppers, onions or scallions and parsley) - and in a host of baked goods. Katun White Cow's Milk Cheese is just what you'll need to make mouthwatering cheese, or cheese and spinach burek or family-sized pies. Our cheese is also perfect for Gibanica, delicious crispy phyllo-layered pies traditionally filled with white cow's milk cheese, cottage cheese, cream cheese and egg – and baked until golden brown. And it's a must for Pita Sirnica, flaky jufka pies filled with three cheeses, and Pita Zeljanica, spinach and cheese phyllo wrapped pies. Once you taste Katun White Cow's Milk Cheese, you will find it a wonderful ingredient for meze and cheese platters, omelets, salads, sandwiches, casseroles and pasta dishes. Brined cheeses, like Katun White Cow's Milk Cheese, are low in fat and a rich source of protein, calcium and gut-healing probiotics.
Item
| | |
| --- | --- |
| UPC: | 8717371000776 |
| Item Package: | 800g tin |
| Item dimensions - LxWxH (inches): | 3.9 x 3.9 x 7.9 |
| Item weight (lbs): | 3.75 |
| Country of Origin: | Netherlands |
| Storage: | Keep refrigerated. |

Cow's milk, salt, microbial rennet, starter culture.