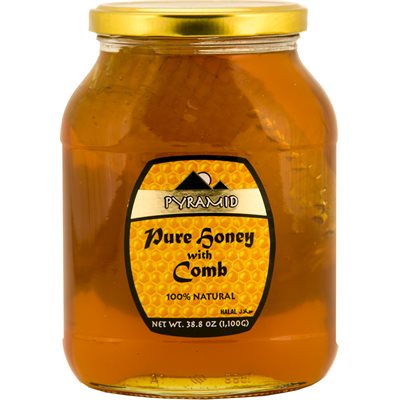 PYRAMID Honey with comb
1100g (38.8oz) jar
Item #:25400A
Honey has been used as a traditional medicine and sweetener since early antiquity. The first recorded evidence of honey production dates back some 8,000 years ago to a cave painting in Valencia, Spain. The second largest producer of honey worldwide, Turkey is reputed for making some of purest and most delicious honey across the globe. The reason: all of its bees come from the Caucasus Mountains. While all excellent honey is 100% natural, one can't get "more natural" than eating honey in a honeycomb. Pyramid Honey works with select beekeepers in Turkey, choosing only the best honeycombs for your consumption. Our comb honey is the rawest and purest honey available - full of polyphenols, natural antibiotics thought to reduce the risk of heart disease and cancer. Because combs are where honey bees raise their young and store pollen along with honey, the combs themselves have additional nutritional and enzyme benefits. The easiest way to enjoy our honey comb: cut it into small pieces and chew. For an elegant accompaniment to tea, cut the comb into pretty pieces and serve.
Item
| | |
| --- | --- |
| UPC: | 075013254009 |
| Item Package: | 1100g (38.8oz) jar |
| Item dimensions - LxWxH (inches): | 3.4 x 4.2 x 5.9 |
| Item weight (lbs): | 3.4 |
| Country of Origin: | Turkey |
| Storage: | Store in a cool, dry place. |



100% pure honey.