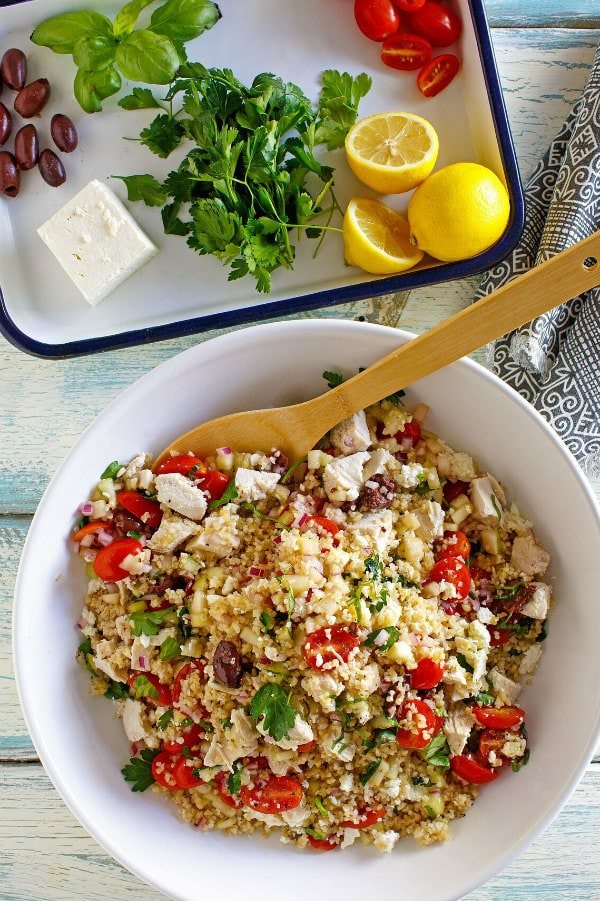 GREEK BULGUR SALAD WITH CHICKEN

Prep Time: 40 minutes
Yields: 10 servings

4 ½ cups water
3 cups Krinos Fine Bulgur
¾ cup (about 4 lemons) freshly squeezed lemon juice
2 teaspoons Krinos Athena Sea Salt
2 1/2 cups chopped skinless chicken breast
2 1/2 cups chopped and peeled cucumber
2 cups halved grape tomatoes
1 cup chopped fresh parsley
1/2 cup thinly sliced fresh basil
1/2 cup finely chopped red onion
1/2 cup crumbled Krinos Greek Feta Cheese
1/4 cup Krinos Extra Virgin Olive Oil
1/2 teaspoon freshly ground black pepper
10 Krinos Pitted Kalamata Olives, chopped

Combine water, bulgur, 1/2 cup lemon juice, and 1 teaspoon salt in a large saucepan and bring to a boil over medium-high heat. Cover, reduce heat and simmer 5 minutes. Remove from heat and let stand 15 minutes or until liquid is fully absorbed. Uncover and cool to room temperature.

In a separate bowl, combine 1/4 cup lemon juice and 1 teaspoon salt with all remaining ingredients. Add cooled bulgur mixture and toss well to combine. Cover and chill prior to serving.