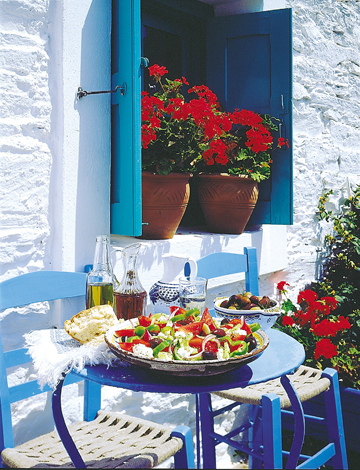 GREEK VILLAGER'S SALAD
(Horiatiki)
This is probably the one dish likely to be a universal offering on Greek menus from Adelaide to Athens. Here, the pickled peppers add a hot and pungent touch, but the salad is still refreshing.
3 large firm ripe tomatoes

1 large red onion, peeled, halved and sliced thin
1 medium firm, ripe cucumber, peeled, seeded and cut into 1/8-inch rounds
2 long green Italian peppers, seeded and cut into rings
2 Krinos Pepperoncini, seeded and cut into thin slices
1 cup Krinos Kalamata or Krinos Oil-Cured Olives
4 tablespoons Krinos Extra Virgin Olive Oil
1 teaspoon Krinos Oregano
Salt, to taste
1/3 pound Krinos Feta cheese, crumbled
Yields: 4 servings
Wash and dry the tomatoes. Cut them in half, core them, and cut each half into thirds or quarters to get chunky wedges.
Toss the tomatoes with the onion, cucumber, peppers and olives.
Just before serving, toss with olive oil, oregano and salt and sprinkle crumbled feta on top.
Serve at room temperature with good, hearty bread.