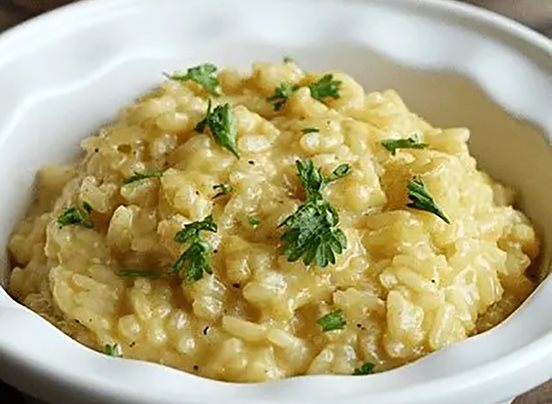 Simple Risotto

Prep time: 25 minutes
Yields: 4 servings

3 tablespoons butter
1 small onion, finely chopped
1 tablespoon minced garlic (optional)
¾ cup Krinos Baldo Rice
1 ½ cup warm chicken broth
½ cup water
½ cup freshly grated parmesan cheese (plus 2 tablespoons)
½ teaspoon dried Italian seasoning
Fresh parsley for garnish
Salt and pepper to taste

In a medium skillet, melt the butter over medium heat. Add in the chopped onion and fresh garlic (if using) and sauté for 3-4 minutes or until soft (but not brown). Add the rice and cook/stir for 3 minutes, stirring constantly.

Add the remaining ingredients and bring to a boil. Cover and reduce the heat to medium-low, and simmer for another 15-20 minutes, or until all of the liquid is absorbed and the rice is tender.

Garnish with fresh parsley and remaining parmesan cheese. Serve as a side with any meat or fish main course, or pair with a fresh salad and loaf of crusty bread.