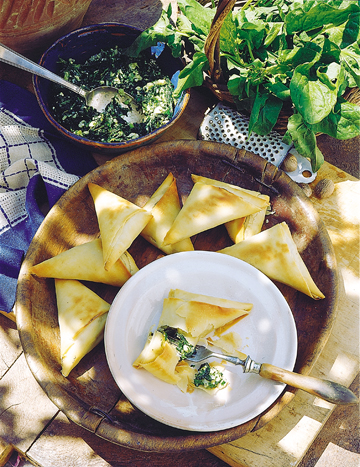 SPINACH AND CHEESE TRIANGLES
(Spanakopitakia)

By now, spanakopita is as American as pizza. There is something very satisfying about the combination of feta, spinach and onions.

1 10-ounce package frozen chopped spinach, thawed
4 scallions, greens included, trimmed and chopped
1 bunch flat-leaf parsley, finely chopped
1 bunch fresh dill, finely chopped
1/2 pound Krinos Feta, crumbled
2 eggs, well beaten
1/2 teaspoon grated nutmeg
Salt, pepper to taste
2 tablespoons plus 1/3 cup
Krinos Extra Virgin Olive Oil
1/4 pound butter, melted
1 1-pound box Apollo Phyllo, thawed and at room temperature

NOTE: Carefully follow phyllo preparation instructions below.

Squeeze the spinach dry between the palms of your hands and place in the bowl of a food processor. Add the scallions, parsley, dill, feta, eggs, nutmeg, salt, pepper, and 2 tablespoons olive oil and pulse on and off several times to combine thoroughly.
Remove the mixture to a bowl, taste and adjust seasoning with additional salt, pepper or nutmeg if desired.

Combine melted butter and 1/3 cup olive oil.
Once at room temperature, remove the phyllo from the package, unfold it carefully, and place it on a work surface. Cover the phyllo with a dry towel and then a lightly dampened one.

Take one sheet at a time. Place it vertically in front of you and cut it in half lengthwise. Brush each strip sparingly with the melted butter and olive oil. Fold the strip in half again lengthwise, and brush the surface with butter. Place 1/2 teaspoon of the filling in the center bottom of the strip. Fold the strip from the right corner to the left side to form a right triangle, and continue folding from corner to side working your way up the strip until you get to the top. Place the triangle seam side down on the sheet. Repeat with remaining phyllo and filling until both are used up.
Bake in a preheated oven at 350ºF for about 15 minutes, or until golden. Serve warm.

Yield: About 75 triangles