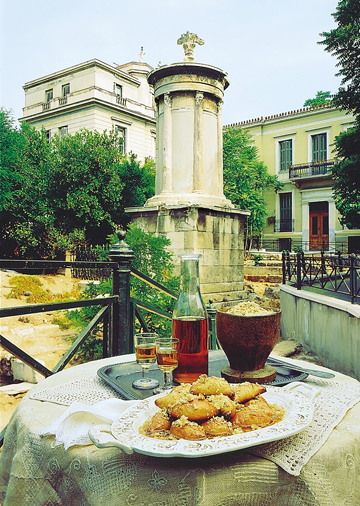 SYRUP-SOAKED BISCUITS
(Melomakarona)

Melomakarona, rich, dark and intense, are another standard on the Christmas table, but they are also made in a Lenten version (below) in which butter is replaced by olive oil. The cookies are delicious either way.

3/4 cup Krinos Extra Virgin Olive Oil
3/4 cup sugar
1 tablespoon honey
1 tablespoon baking powder
1/2 cup water
3/4 cup orange juice
1/4 cup brandy
1 tablespoon ground cinnamon
1/2 teaspoon ground nutmeg
Pinch of salt
5-6 cups all-purpose flour, sifted
6 cups syrup
1 cup ground walnuts

NOTE: Follow syrup preparation instructions below.
In a large bowl, whip together the olive oil, sugar and honey. Dissolve the baking powder into the water and mix into the oil and sugar. Add orange juice, brandy, cinnamon, nutmeg, and salt, and mix well. Gradually fold in 5 cups of the sifted flour. Knead, adding more flour if necessary, until smooth dough forms.

Lightly grease several cookie sheets and preheat the oven to 350ºF. Take a walnut-size piece of dough at a time and shape into small oblongs, mounding the top slightly. Bake on the greased cookie sheets for about 15 minutes, or until golden.

Have the syrup ready and cool. When the melomakarona comes out of the oven, steep them into the cool syrup. Remove with a slotted spoon, place on a platter or tray and sprinkle with ground walnuts.

Yield: About 4 dozen
SYRUP: Basic syrup recipe for baklava, galaktoboureko and melomakarona.
Ingredients:
- 4 cups sugar
- 4 cups water
- 2 Tablespoon fresh lemon juice
- 1 cinnamon stick
Combine the sugar and water in a saucepan and heat over medium heat. As soon as the sugar dissolves, add the lemon juice and the cinnamon stick. Bring syrup to a boil, reduce heat and simmer for 10 minutes. Let the syrup cool completely before pouring over pastry. Yields: 6-7 cups.