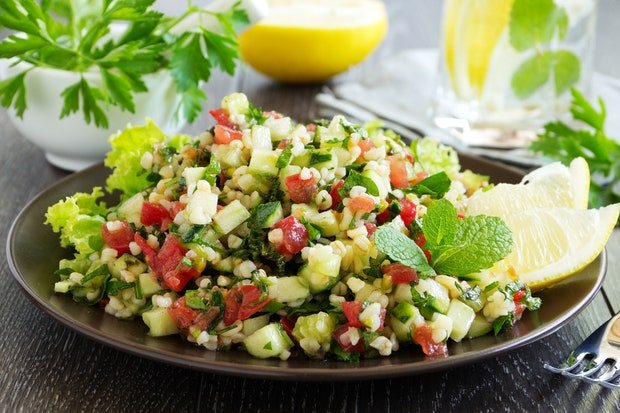 TABBOULEH SALAD
Prep Time: 30 min
Yields: 8 servings

1 cup Krinos Fine Bulgur
1½ cups boiling water
¼ cup lemon juice
¼ cup Krinos Extra Virgin Olive oil
3 teaspoons of Krinos Athena Sea Salt
1 cup minced scallions (both green and white parts)
1 cup chopped fresh mint leaves
1 cup chopped flat-leaf parsley
1 cup diced cucumber
2 cups diced tomato
1 teaspoon ground black pepper

Place the bulgur in a large bowl, pour in the boiling water, and add the lemon juice, olive oil and 1½ teaspoons salt. Stir then let sit at room temperature for about 1 hour.
Add the scallions, mint, parsley, cucumber, tomatoes, pepper and remaining salt, and mix well. Season to taste and serve.