Home

>

SARADIS Pergamont Sweets 1lb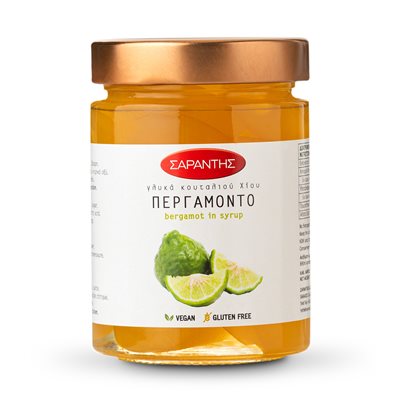 SARADIS Pergamont Sweets
1lb (453g) jar
Item #:11009
If you've spent any time visiting family or friends in Greece, "spoon sweets" – luscious whole fruits, citrus peels or nuts preserved in translucent sugar syrup – will already be very familiar to you! A mainstay of Greek, Turkish, Balkan and Russian culture for centuries, spoon sweets are traditionally offered to visitors as a sign of hospitality: served in a generous teaspoon with a glass of water, and sometimes coffee. Or presented as an elegant spoonful in center of small dish of Greek yogurt. Saradis has been making spoon sweets on the beautiful Greek Island of Chios since 1928. Our Pergamot Peel Sweets feature large peels of ripe, hand-picked pergamots ("bergamots" in English) suspended in a delectable syrup. Thought to be a hybrid of lemon and a bitter orange, these fragrant peels are also used to flavor Earl Grey Tea. More syrupy than classic marmalade, Saradis Bergamot Peel Sweets are chewy and juicy – the "perfect bite" in a teaspoon. Chewy, firm and not too sweet (despite the name!) our Pergamot Peel Sweets are wonderful chilled, right out of the jar. Slice the peels and serve with their syrup on French toast, pancakes or waffles, with a dollop of Greek yogurt, mascarpone or whipped ricotta, for a delightful citrusy spin on a brunch classic. A wonderful accompaniment to scones, biscuits and cornbread, the peels can also be sliced and served with their syrup as a condiment with a cheese and salami Meze platter. They are also delicious over ice cream or tangy frozen yogurt. 
Item
| | |
| --- | --- |
| UPC: | 075013166050 |
| Item Package: | 1lb (453g) jar |
| Item dimensions - LxWxH (inches): | 3.6 x 3.6 x 3.2 |
| Item weight (lbs): | 1.7 |
| Country of Origin: | Greece |
| Storage: | Store in a cool, dry place. |

Pergamot peel, sugar, glucose syrup, water, acidity regulator: citric acid, preservative: potassium sorbate, artificial flavorings. May contain sulfites.